The 2015-2016 season will be the third year that Carrie Underwood has been a part of the Sunday Night Football festivities.
NBC takes us behind-the-scenes of the intro to the iconic Sunday Night Football tradition with the returning voice behind the series, Carrie Underwood. The intro features Underwood singing the hook "waiting all day for Sunday Night" with plenty of football action shots and the sponsor Verizon flashing their name in the background. The season kicked off this past Sunday (Sept. 13th).
The video also features many of the NFL's brightest stars including Eli Manning, Tony Romo, Russell Wilson, Andrew Luck, Clay Matthews and several more.
"I love football. I'm honored they asked me to kick it off," Underwood says about the SNF.
"Hopefully when people hear the song, they'll just feel ready for the big game!"
Watch the behind-the-scenes video below!
Underwood feels right at home with the football players, this being her third year doing the shoot.
"I got to hang out a bit with Andrew Luck and Antonio Brown . I've met other players in the past season. Everyone's just so nice."
Antonio even gave Carrie instructions on how to perform his complicated handshake while on set.
"I don't know how well I kept up," Carrie says with a laugh, "but he was really nice and pretended that I was doing a good job."
Keeping her energy level up during the Sunday Night Football taping is easier since there's always a real-life crowd on set watching Carrie's performance. She adds, "It's nice to just kind of have that energy coming back at you."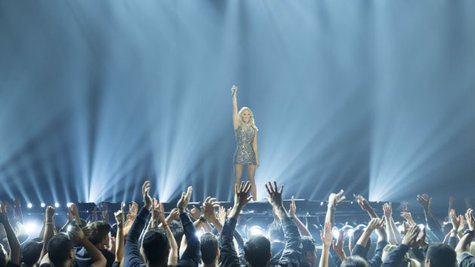 Watch the finished intro below!