Florida Georgia Line star Tyler Hubbard's son arrived safe and sound on August 19, 2019 and has now turned four ears old! Get a peek at his baby pictures and growth here. . .
Luca Reed Hubbard came into the world on August 19, 2019 and is already four years old!!  Florida Georgia Line star Tyler Hubbard now has three children Olivia (5), Luca (4), and Atlas (2), with wife Hayley.  Olvia was born December 23, 2017.  Atlas was born September 24, 2020.
The Hubbard Family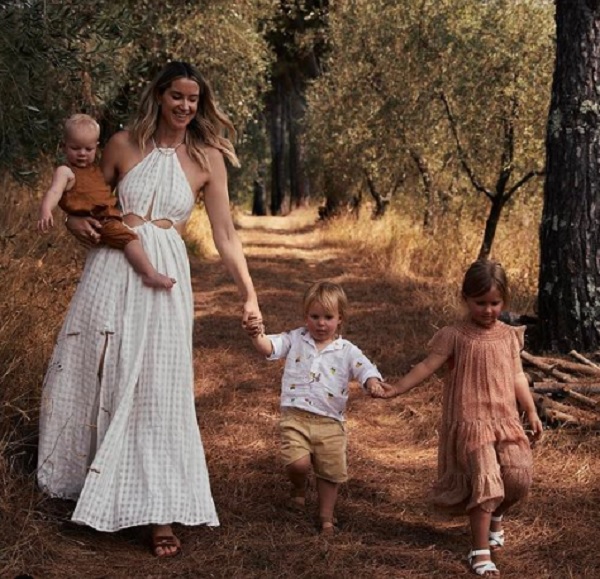 Luca with his Younger Brother Atlas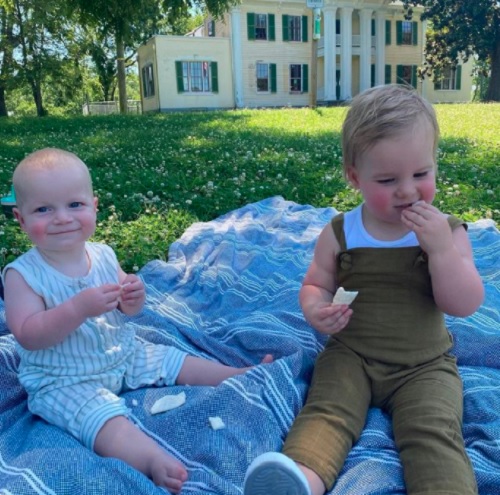 Here is Luca with his new wagon.
The Florida Georgia Line star and wife Hayley shared their happy news of Luca's birth via Instagram and released a batch of gorgeous snapshots from the big day. Get a peek at Tyler Hubbard's son and his birth story below!
Meet Tyler Hubbard's Son, Luca Reed 
Now For an Intimate Look at Luca's Birth
Now for a video montage…
"Words can't describe the overwhelming emotions that I experienced last night as we witnessed the miracle of life," Tyler shared upon his son's arrival. "I couldn't be more proud of my amazing wife @hayley_hubbard through this whole journey. She's an absolute angel and meant to be a mother. I thank God for answering our prayers and bringing Luca into the world peacefully and smoothly. I didn't think life could get any better but it just did."
Awww, congrats to Tyler and Hayley! We can't wait to see more pictures of big sister Olivia with baby Luca!
Share this look at Tyler Hubbard's son and the day he was born with other Florida Georgia Line fans!
"Simple" Lyrics
The way your fingers fit in mine
It's five plus five, not rocket science
This day in time, that's hard to find
It's true
The road we're on ain't a traffic jam
It's a Sunday drive on a piece of land
It's paradise as long as I'm with you
It's like one, two, three
Just as easy as can be
Just the way you look at me
You make me smile
Ain't no need to complicate it, we both know that's overrated
We've been there, it's safe to say it ain't our style
It's just that simple, S-I-M-P-L-E
Simple as can be
It's just that simple, S-I-M-P-L-E
Simple as can be
We used to live on Instagram
Worry 'bout who all gives a damn
'Bout where we've been and where we ended up
Then I met you and you met me
And all the rest is history an epiphany
That all we need is us
It's like one, two, three
Just as easy as can be
Just the way you look at me
You make me smile
Ain't no need to complicate it, we both know that's overrated
We've been there, it's safe to say it ain't our style
We're just simple like a six string
The way this world was meant to be
Like laughin' love, make a lot out of a little
Its just that simple, S-I-M-P-L-E
Simple as can be
Its just that simple, S-I-M-P-L-E
Simple as can be
Ain't no need to complicate it, we both know thats overrated
We've been there, its safe to say it ain't our style, yeah
It's like one, two, three
Just as easy as can be
Just the way you look at me
You make me smile
Ain't no need to complicate it, we both know that's overrated
We've been there, its safe to say it ain't our style
We're just simple like a six string
The way this world was meant to be
Like laughin' love, make a lot out of a little
Its just that simple, S-I-M-P-L-E
Simple as can be
Its just that simple, S-I-M-P-L-E
Simple as can be
Its just that simple, S-I-M-P-L-E
Simple as can be
Its just that simple, S-I-M-P-L-E
Simple as can be