Get to know Florida Georgia Line star Tyler Hubbard's wife Hayley Hubbard a little better! More on the inspiring lady here!
Florida Georgia Line star Tyler Hubbard's wife Hayley Stommel Hubbard are quite the couple and share many of the same passions.  Tyler Hubbard was born January 31, 1987 in Monroe, Georgia and is now 36 years old.  Hayley was born September 18, 1987 in Campo, Idaho and is now 35 years old.  The pair have three children, 5 year-old Olivia (born December 23, 2017) and 3 year old Luca (born August 19, 2019), and 2 year old Atlas Roy (born September 24, 2020).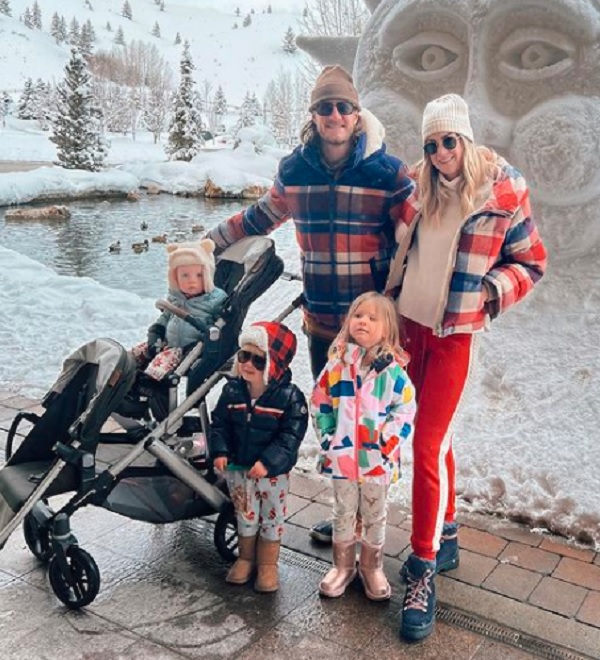 Get to know Tyler's main muse better through the following facts!
Tyler Hubbard's wife Hayley & Family 
View this post on Instagram
Hayley and Tyler almost didn't get married!
"When I quit my job at Merrill Lynch and was about to move back to California, a friend of mine told me to pray about the move and that he didn't think I should leave. So, I did. I asked God to make it clear. As I was signing my Cali lease the next day, my boss came up to me and said he would double my salary if I would stay. I looked up and almost laughed in his face. I had gotten my clarity. One month later that same friend, who is now my husband, gave me my last first kiss. Wow am I glad I stayed," the blonde beauty shared via her The Vogue Trip blog.
The couple started dating in 2013 and got engaged on September 22, 2014 during a helicopter ride. Tyler and Hayley got married in Idaho on July 1, 2015.
Hayley is often on the scene as she supports her husband at many of his concerts and award shows!
Not to mention that she looks fabulous while doing it! Hayley often has the kids in tow as well!
View this post on Instagram

Hayley created a scholarship fund to aid first-generation college students! 
"I wanted to do something different — something positive to make an impact on people," Hayley revealed in a past interview with Idaho Mountain Express. This scholarship fund is only one of the ways this woman with a heart of gold is making an impact.
She adores her children! 
Hayley's social media accounts are full of cute photos and videos of their kids!
View this post on Instagram
She hopes her kids will love wildlife as much as she does! 
View this post on Instagram
She's also teaching her little ones to love the outdoors and adventure as well! 
View this post on Instagram
Hayley is passionate about humanitarian and conservation work. She often travels to Africa to help out! She even had the opportunity to help name a sweet baby in Malawi! 
Hayley took to Instagram to share with fans about this incredible opportunity writing in the beginning of her caption that, "Getting to hold day old sweet baby Olivia after her mother told us she would like us to name her baby so she could have something to remember us by 😭is one of my fondest memories."
She loves exercise and works to have both a healthy mind and body! 
View this post on Instagram
Overall, she is just a really good person! 
View this post on Instagram
Share this look at Tyler Hubbard's wife Hayley with other Florida Georgia Line fans!