Tyler Hubbard's daughter Olivia has a growing appreciation for things with Yoga and wheels--- check out the youngster's growth over the years here....
It is hard to believe that Florida Georgia Line star Tyler Hubbard's daughter Olivia is already five years old (born December 23, 2017).  Check out her growth over the years below.
Olivia loves doing Yoga with mom.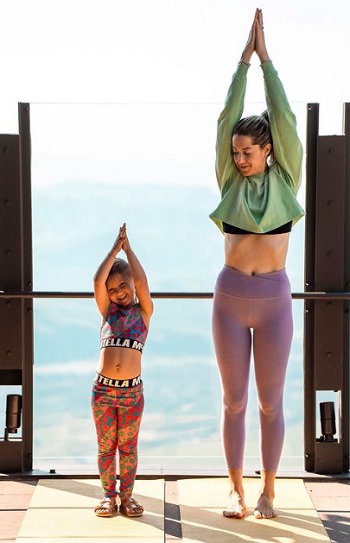 As a toddler, Olivia became the proud owner of two impressive sets of wheels! Yes, that's the little one posed between miniature versions of a Mercedes and a Porsche!
"I have no words😂 it may have taken a couple of us and the Itsy Bitsy Spider and us acting like fools to get her to stand still in between her cars but i hope she'll laugh and thank us one day for a good tbt," Hayley Hubbard captioned the hilarious photo below.
As if a picture of Olivia sporting a red track suit and a gold chain wasn't enough, Tyler also posted a set of pictures as well as a video of his daughter 'driving' (the car is controlled by a remote) down their driveway.
"This is what I get to come home to. Just speechless really. Guess she just got that swag. Lol… #likemotherlikedaughter," the "Simple" singer captioned the snapshot of Olivia and Hayley in their twinning cars.
Yes, she has earned her new nickname "Lil Hubb Cap."
Stay tuned, in a few years Olivia might be whipping around in a normal sized Porsche or Mercedes just like her mama!
Besides nice vehicles, the little girl also appreciates shoes! Watch her check out Hayley's closet…
"Olivia's favorite word today #Whoa #wordoftheday #shelovesshoes" her mother explained to Instagram followers.
Be sure to share these cute moments with other Florida Georgia Line fans!
"This Is How We Roll" Lyrics
This is how we roll
We hanging round singing out everything on the radio
We light it up
Light it up, light it up
Haha, it's the Dirty South connection
Florida Georgia Line
Uh uh, it's Florida, uh uh it's Georgia
We light it up
Light it up, light it up
The mixtape's got a little Hank, little Drake
A little something bumping, thump, thumping on the wheel ride
The mix in our drink's a little stronger than you think
So get a grip, take a sip of that feel right
The truck's jacked up, flat bills flipped back
Yeah you can find us where the party's at
This is how we roll
We hanging 'round singing out everything on the radio
We light it up with our hands up
This is how we roll
This is how we do
We're burning down the night shooting bullets at the moon
Baby, this is how we roll
I'm feeling a little dirty baby, listen
My accent's got a little twang, little thing
Little something, something
Always makes the ladies scream my
My name louder, reverse cowgirl
Little bump, bump in that trunk
All up in my new Maybach
That how well my snapback
You can find us where the party at
This is how we roll
We hanging round singing out everything on the radio
We light it up with our hands up
This is how we roll
This is how we do
When the world turns ugly I just turn and look at you
Baby, this is how we roll
This is how we roll baby
Yeah we're proud to be young
We stick to our guns
We love who we love and we love to get drunk
Yeah we cuss on them Mondays
And pray on them Sundays
Pass is around and we dream about one day
This is how we roll
'Cause this is how we roll baby
We hanging round singing out everything on the radio
We light it up with our hands up
This is how we roll
This is how we ride
We slingin' up the mud, cuttin' through the countryside
Baby, this is how we roll
Yeah, This is how we roll
This is how we roll
This is how we roll
Yeah, This is how we roll
This is how we roll
This is how we do
We burning down the night shooting bullets at the moon
Baby this is how we roll
Yeah, this is how we roll
This is how we roll