As you know, Tyler Farr has a sophomore album coming out very soon entitled Suffer In Peace. He wants to take a selfie with you to celebrate!
It was just announced that the "Guy Walks Into a Bar" singer has partnered with TouchTunes, the largest in-venue digital jukebox company, for "Tyler Farr's Jukebox Selfie" contest.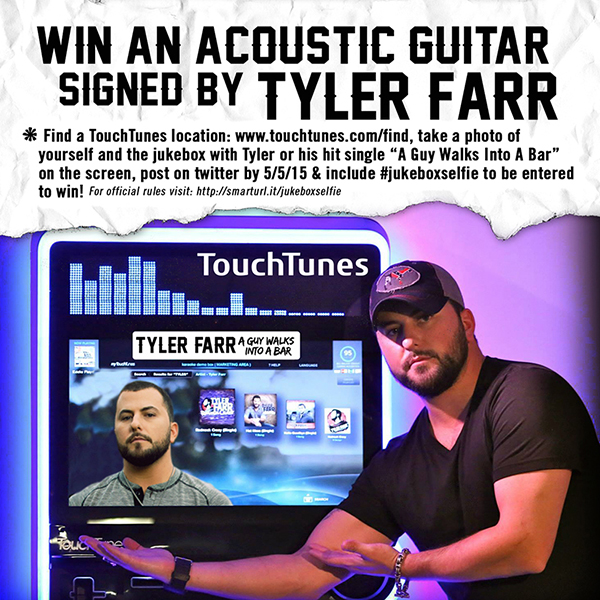 The new contest asks fans to "walk into a bar" and take a selfie with the new album playing in the background. Fans will then post the picture to twitter with the hashtag #JukeboxSelfie, in order to enter the contest.
The winner of "Tyler Farr's Jukebox Selfie" contest will receive an acoustic guitar autographed by Tyler Farr himself. Creativity is encouraged, so make sure your selfie is memorable! You can see more contest rules and information HERE.
Leading up to the album release, Tyler will be performing at the 3rd Annual ACM Party for a Cause Festival. The Party For a Cause Festival is prior to the much anticipated 50th Annual ACM Awards ceremony being held on April 19th, where Tyler is up for the "New Artist of the Year" award. The ceremony will be broadcasted on CBS so be sure to tune in.
Tyler Farr is booming right now so be on the lookout for the new album Suffer In Peace to drop on April 28th, it will no doubt be a huge event!
For more Tyler Farr news click HERE!