To celebrate her current exhibit at the Country Music Hall of Fame and Museum, Trisha Yearwood spoke to several hundred middle and high school students about her career and thoughts on country music.
Trisha Yearwood has a lot to be thankful for this Thanksgiving season, one of which is her current exhibit at the iconic Country Music Hall of Fame and Museum, "Trisha Yearwood: The Song Remembers When".
To celebrate the event, which lasts through Jan. 3rd of next year, Yearwood spoke in front of a large group of students about her life and career.
She was candid about her fears, a most recent one being her performance of Reba McEntire's "Fancy" at the Leadership Music Dale Franklin Awards on Nov. 16, where McEntire was being honored.
"I sang it with her band, so they just played it in her key," Yearwood explained.
"Well, Reba McEntire sings a lot higher than I do, and I didn't want to be … well, I can't hit those high notes! So, I just came out and took a really deep breath … And I was terrified."
You can see in the video below that she did an awesome job!
Yearwood also had some thoughts to share on the direction country music may be heading after a student asked what "the future holds for country music," .
"The cool thing about country music is that it always changes," and she predicted the current country-pop sounds "will probably go back to a little more grassroots, a little more singer-songwriter vibe" she commented.
Yearwood then went on to talk about her early years in Nashville. She got her start in Nashville in the early 1980's from singing songs that songwriters wanted to shop around. She would record other people's demos for $20 a song.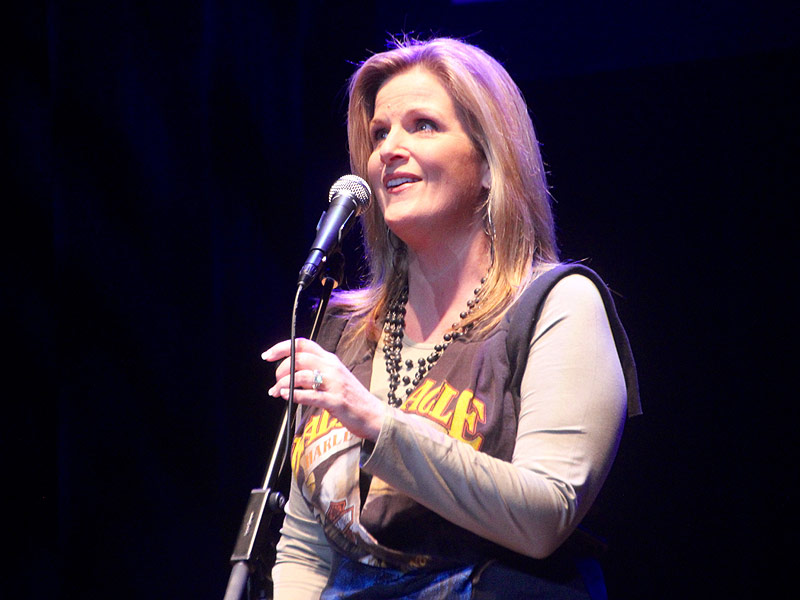 "I got work based on the fact that I showed up on time, I worked cheap, I knew the songs when I got there, and I sang on pitch," she recalled.
"I was not aggressive," she said. "I was shy, so I wasn't going into record labels saying, 'Hey, I want you to sign me because I think I'm really great.' But they were hearing me every day [on the demos] because publishers and songwriters were trying to get their songs cut."
"Don't ever think, because you're young, that you don't know what you want" Yearwood said to the students.
"If you're doing this [pursuing a music career] because you feel a burning desire to do it, then you'll find a way to do it, no matter what. If you're doing this because, 'hey, it's really cool, and I'll be famous,' then you'll probably quit, because it's not easy to do for the long haul."
Trisha Yearwood is currently on tour with husband Garth Brooks. Catch them at a show below!
[bandsintown_events artist="Trisha Yearwood" display_limit="10″]

For more
Trisha Yearwood
coverage
CLICK HERE
.