Watch the 15 most Hilarious Country Music Pranks of all time!
This listing of hilarious Country Music pranks features many of the top Country Music stars.  Enjoy watching these top pranksters and the victims below.
1.  Ellen Attempts to Prank Garth Brooks
Ellen DeGeneres makes an attempt to scare Garth Brooks by having a guy with a wig jump out of the table next to Garth Brooks.   Watch the video below to see this epic Fail attempt….worse scare attempt ever in The Ellen Show history!  The fail is more funny than the prank.
Garth Brooks on The Ellen Show (Major Fail)
Garth was fooled by the wig and thought a woman jumped out of the coffee table.   Things clearly did not go as planned as the guy trips and falls out of the side table.
2.  Ellen Succeeds in Carrie Underwood Prank
To understand how much of a fail Garth's scare attempt was, watch the video below to see highlights of some of Ellen's best scares over the years.  Ellen gets Carrie Underwood ral good…
Ellen Scare Highlights
3.  Rascal Flatts Pranks Darius Rucker
Rascal Flatts pranks Darius Rucker's song performance of  "Family Tradition"  in Columbus, Georgia in early 2010.  Rucker's band got bigger, as a family of goats paraded the stage's catwalk and a guy dressed as a huge blue bird danced behind the singer.
4.  Tim McGraw and Crew Prank Luke Bryan
Tim McGraw and his crew has some interesting dancers join Luke on-stage.
5.  Martina McBride Pranks Trace Adkins
Martina McBride and her fiddle player, Jenee Fleenor, surprised Adkins on stage sporting enhanced badonkadonks during his song "Honkey Tonk Badonkadonk".  "I went to this theater prop store and bought these fake booties," explains McBride. "They were huge! We put them on and went out and danced around."
6.  Tim McGraw Pranks Lady Antebellum
Tim McGraw and Crew come out to prank Lady Antebellum during their performance of "Love Don't Live Here" in Toronto.  Tim and some of his buff friends decided to do a shirtless workout during the last stop of the country superstar's 2010 Southern Voice Tour.
7.  Jason Aldean Pranks Luke Bryan On-stage
Jason Aldean pranks Luke's performance of 'Country Girl' at the 2012 Concert for the Cure in Dallas.  Aldean has a group of shirtless all male dancers join the artist on stage for the song.
8.  Little Big Town Pranked By Carrie Underwood
Carrie Underwood rigged the visuals to show "Boo' as the band members were introduced.  Kimberly Schlapman thought the audience had turned on her. "That made me sweat!" she exclaimed when the band realized what had happened.
9.  Rascal Flatts Pranks Taylor Swift
During Taylor's set, members of the Rascal Flatts crew (dressed in drag) stormed the stage. And…well…chaos ensues . . .
10.  CAM Pranks Brad Paisley
CAM pulls a prank on Brad Paisley during the performance of his tune "Whiskey Lullaby."  Cam was set to join him on the song when he got a knock-off version of the "Burning House" singer with male country singer Eric Paslay in a wig.
11.  Taylor Swift Pranks Keith Urban
Taylor and her band rushed the stage dressed as rock band KISS.  Add a few backup dancers dressed as Hershey's Kisses just for good measure.  This prank gets the nod for most elaborate and involved some serious preparation work.  Check out Taylor Swift's prank during Keith's performance of "Kiss A Girl" in Kansas City, MO.
12.  Kellie Pickler Pranks Brad Paisley
Kellie Pickler pranks Brad Paisley during a 2007 concert in Charlotte, North Carolina.  Kellie gives Brad a down home welcome with several chickens.
13.  Luke Bryan Friends should be called the Rat Pack
In this video footage from Buck Commander, the guys have a little fun at Luke Bryan's expense. While in the deer stand, the cameraman asks him for a pair of ear buds, so the singer reaches into his backpack and quickly discovers a new rodent friend he dubs "Mr. Bo-Doddly." Yes, the rat flips out on the award-winning entertainer— peeing on him and giving him a nasty bite.  Fellow Country singer Jason Aldean has some fun with this prank.
In an interview about the dramatic episode alongside an amused Jason Aldean, Luke states, "You know, ever since then, I've been having fevers at night and cold chills, so I probably got some kind of rare sewer rat virus."
14.  The Swon Brothers Prank Bobby Bones
After an appearance on The Bobby Bones show, where Bones called The Swon Brothers "too vanilla", the brothers decided to show the host just how vanilla they can be.
Over one hundred gallons of Purity vanilla ice cream would just about cover that. The Swon Brothers enlisted the help of their management team, the fine folks at Purity Dairy and even some of iHeart's employees who wanted to get in on the action.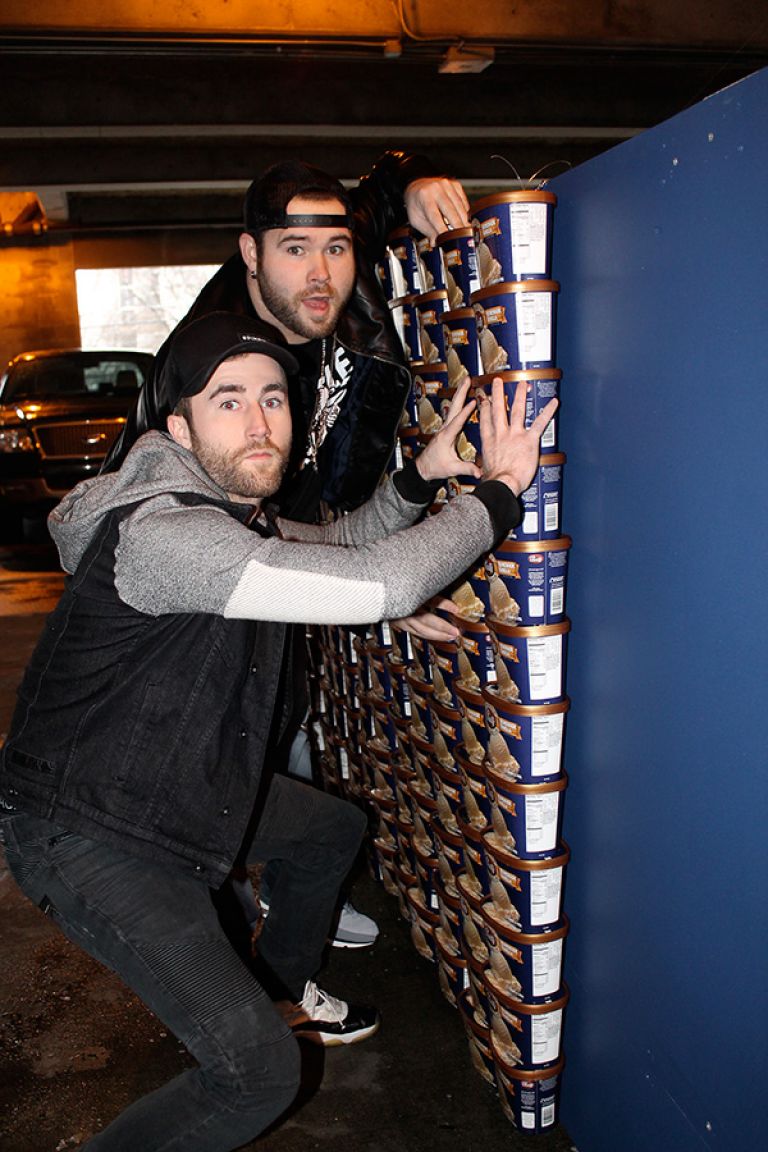 photo: Sony Music Nashville
The prank began at 7:30am, as they frantically built scaffolding to hold the hundreds of gallons of ice cream.  When Bobby finished his show and made his way to the parking garage, escorted by his sidekick Amy who was in on the prank, he saw a huge structure made of ice cream where his car was supposed to be.  Zach and Colton Swon jumped out from behind the ice cream and shouted to him "Hey, remember when you told us we were vanilla, well we found out that vanilla happens to be America's favorite flavor, so we just wanted to share some with you!"  Bobby responded, "Yeah… this is good! You got me… you got me."  The brothers then donated the ice cream to Nashville's Second Harvest Food Bank in recognition of The Bobby Bones Show "Pimpin Joy" week.
15.  Maren Morris Pranks Keith Urban
During Keith Urban's last stateside Ripcord World Tour stop in New York, opener Maren Morris totally pulled a fast one on the unsuspecting country music superstar.  The "My Church" songstress was supposed to join Urban for a duet of "We Were Us," but drummer Christian Paschall shimmied onto the stage instead.
As expected, Keith totally lost it when Christian (who looks a lot like viral internet sensation Joanne the Scammer) emerged dressed as Maren and lip syncing the duet. Maren soon joined Keith and Christian on stage in almost the same outfit. What a fun candid moment!
Remember to share these pranks with other Country Music fans!