Country music superstar Tim's McGraw's former tour bus recently went on sale via online auction. Although it's already been scooped up, enjoy a little tour...
If you're wanting to make your next family vacation one for the books, road tripping in Tim McGraw's old 1990's tour bus would have done the trick.
With an impulse buy of 'just' $45,000 on Ebay, you could have been the next owner of a piece of country music history! You might have also earned the right of being dubbed Tim's biggest fan. The auction was supposed to extend through Sunday, January 14th, but was abruptly sold off on Thursday instead. Dreams crushed. The lucky new owner will be all smiles picking up the road-trippin' beauty in Carollton, Texas.
Interestingly enough, McGraw sold the 1995 Eagle 45′ 11-bunk tour bus to Pantera's Vinnie Paul after he was done with it. That's DOUBLE the musical history. If buses could talk…
Comfortably housing 11 passengers, this bus makes for the perfect family vacation mobile. There's even plenty of room for the in-laws to tag along— or not!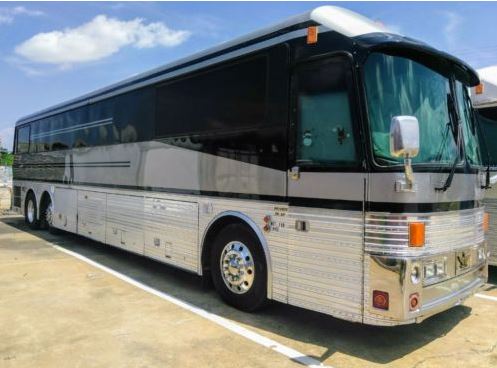 Sure, the bus looks like it's been almost untouched since 1995, making the bus considerably dated… but who cares about that?? IT WAS TIM MCGRAW'S TOUR BUS! Take a short tour around via the pictures below.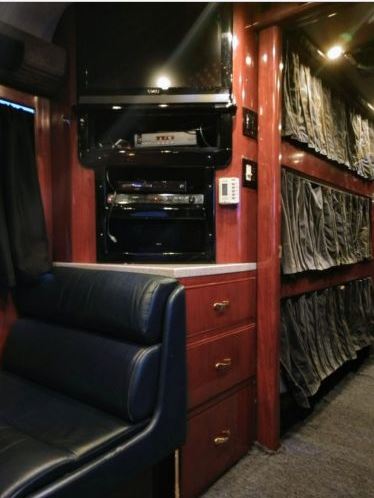 While his old bus with quite the past wheels its way to a new home, Tim McGraw and
Faith Hill
will be restarting their
 Soul2Soul
tour in May. The couple's current tour bus probably makes this previous one seem like a time capsule. Check out their 2018 tour dates below so that you don't miss a great show!
SOUL2SOUL THE WORLD TOUR 2018 Dates
May 31, 2018 – Richmond, VA
June 1, 2018 – Charleston, WV
June 2, 2018 – Lexington, KY
June 5, 2018 – Baltimore, MD
June 7, 2018 – Grand Rapids, MI
June 8, 2018 – Toledo, OH
June 12, 2018 – Hershey, PA
June 14, 2018 – Uniondale, NY
June 15, 2018 – Uncasville, CT
June 16, 2018 – Manchester, NH
June 18, 2018 – Hamilton, ON
June 19, 2018 – London, ON
June 22, 2018 – Raleigh, NC
June 23, 2018 – Duluth, GA
June 26, 2018 – Bossier City, LA
June 29, 2018 – Springfield, MO
June 30, 2018 – Des Moines, IA
July 6, 2018 – Green Bay, WI
July 7, 2018 – Minneapolis, MN
July 8, 2018 – Sioux Falls, SD
July 10, 2018 – Grand Forks, ND
July 13, 2018 – Seattle, WA
July 14, 2018 – Eugene, OR
July 18, 2018 – Salt Lake City, UT
July 20, 2018 – Phoenix, AZ
July 21, 2018 – Los Angeles, CA
July 22, 2018 – Sacramento, CA
Share this fun update with other country music fans!