Country music artist and Grammy nominee Thomas Rhett will be logging in a lot more miles on the road soon! Check out Thomas Rhett's tour plans here.
Due to popular demand, country music star Thomas Rhett has extended his first-ever headlining 2017 Home Team Tour! Besides adding more US tour stops, the "Die A Happy Man" crooner will return to Europe and make his debut in Canada.
"It's unreal that we're adding dates before we've even had a chance to get started," said Thomas Rhett of the response to his tour. "It'd be impossible to pick which part of the tour I'm most excited about, but I can't wait to get back out there. We're just going to make sure every last person in the building has a good time."
NEW 2017 Home Team Tour Stops
London, UK
Birmingham, UK
Manchester, UK
Glasgow, UK
Belfast, UK
Abbotsford, BC
Dawson Creek, BC
Edmonton, AB
Lethbridge, AB
Regina, SK
Los Angeles, CA
San Diego, CA
Evansville, IN
Louisville, KY
Alpharetta, GA
Washington, DC
Columbia, SC
Pensacola, FL
Biloxi, MS
Columbia, MO
Kansas City, MO
Springfield, MO
Bismarck, ND
St Paul, MN
Omaha, NE
Watch this video to hear Thomas describe his current tour:
More information about the additions to Rhett's tour schedule, including ticket availability, dates, venues, and more, will be available here within the next few weeks.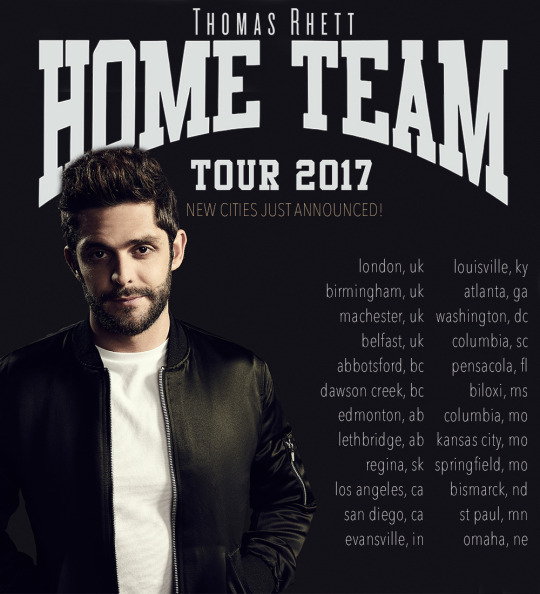 Share this update with other Thomas Rhett fans!