Thomas Rhett is teaming up with his manager, his father, and Jay-Z to start a new Nashville publishing company: Home Team Publishing.
Country music superstar Thomas Rhett is developing a new publishing company with the help of a few recognizable people. Rhett's longtime manager, Virginia Davis, and his well-known songwriting father, Rhett Akins, are contributing to the project as well as rap artist Jay-Z. Thomas Rhett wants to welcome new songwriters to his own Home Team Publishing venture.
Jay-Z founded an entertainment company, Roc Nation, in 2008, which works with recording artists, songwriters, producers, and even professional athletes. The creation of Rhett's new Home Team Publishing expands Roc Nation's reach into the country music genre.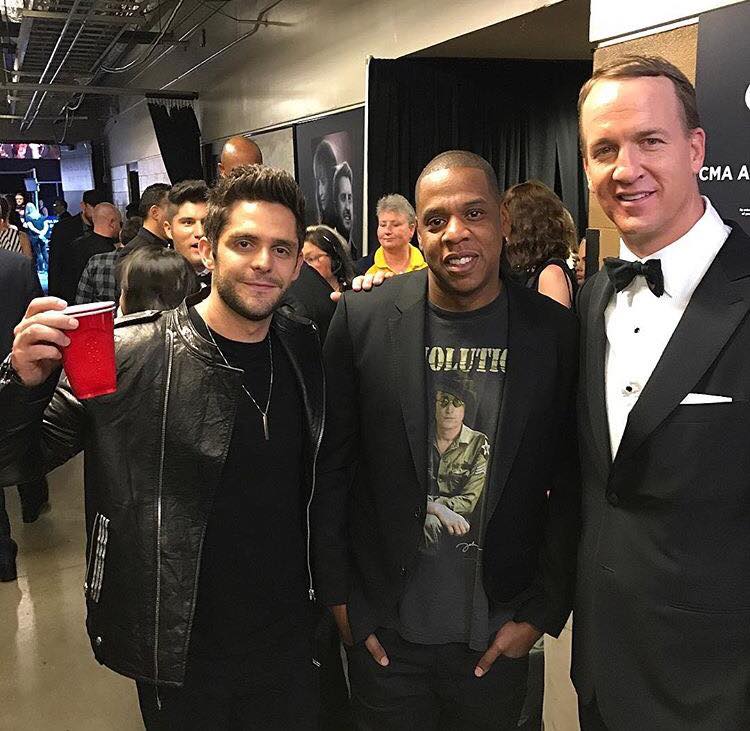 Songwriting has always been a large part of Thomas Rhett's life. He was a songwriter before he became an artist, so he wants to invest in the songwriting community. Home Team Publishing just signed Seattle native Eric Olson as its first songwriter. Olson has worked with artists including
Chris Lane
,
Lauren Alaina
and a few other artists. He also co-wrote and co-produced Kelly Clarkson's hit single "Catch My Breath."
It looks like Thomas Rhett's new business is going to bring even more success to the Akins family. Rhett Akins is excited to be helping his son with the company. He thinks his son and manager Virginia Davis are two of the most hard-working and talented people currently in the competitive industry.
This isn't the first time Rhett and Akins have partnered up for work purposes. Thomas Rhett's recent No. 1 hit "Star of the Show," was written by the father-son duo. It is the first song written by a father-son combo to top the Billboard Country charts!
Thomas Rhett is having a very successful year so far! Besides the start of Home Team Publishing, he took home two ACM Awards for Song and Male Vocalist of the Year. Rhett and Wife Lauren Akins are also expecting their first child in August and will be adopting another from Africa. He is currently on the road for his The Home Team Tour, which is also his first full headlining tour.
Rhett recently released a new single, "Craving You," featuring fellow country star Maren Morris. It will be the lead single from a new album to be released later this year. Check out "Craving You" below:
Don't forget to share this information with other Thomas Rhett fans!