The Swon Brothers are a new country duo group currently on tour with Brad Paisley and Parmalee. The group is growing fans fast and their music is being spread around the world.
The Swon Brothers have recently released a great debut album, performed on the Grand Ole' Opry, and received their first ACM award nomination for "Vocal Duo of the Year." The brothers are active on Twitter and Instagram, and are sharing all of their experiences with their fans.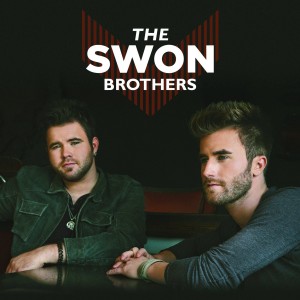 photo: Sony Music Nashville
Brad has been a great host to the brothers and has even started a prank war by taking over  the video monitor in Green Bay and announcing to the crowd that Zach Swon is not a Green Bay Packers fan. This was followed by a doctored picture of Brad with a bald head being posted to Twitter by the brothers.
Brad Paisley's Country Nation tour is moving through the heartland of America, stopping next in Illinois, Ohio, Indiana, Colorado, and then New Mexico. You can check out all the upcoming dates from the brothers at their website HERE, and be sure to follow their musical journey on Twitter and Instagram.
As you can see, the future is bright for these two and their career continues to catch fire!