Blake Shelton has been given the 'Sexiest Man Alive' title by 'PEOPLE' this year. As expected, the country star is loving his new status...
Country music star Blake Shelton is totally on cloud nine after being named PEOPLE's 'Sexiest Man Alive' for 2017. During his stop on The Ellen DeGeneres Show, the singer shared that he'd like to be the one to bring the mullet back into style.
"The mullet's coming back this year," Shelton, 41, declared. "It has to be. That used to be ugly, it's officially sexy now."
"When I think of sexy, I think of my heroes and Billy Ray Cyrus was one of them," he continued. "With this new power that has been bestowed on me, I can bring the mullet back which makes it okay for any of us to have them."
Ellen seemed to support his cause, saying, "When you're sexy, you can do anything because then people will follow it [saying], 'Well Blake did it.' "
"It's the law. It's like the sun coming up," Shelton agreed. "I'm sexy."
In case you don't recall Blake's curly mullet, here you go…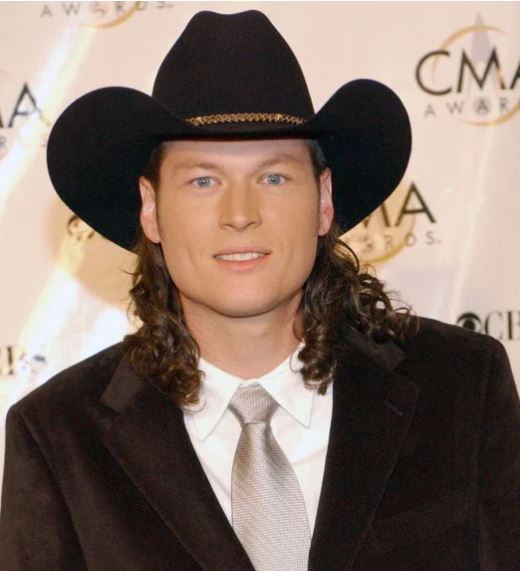 Some things should be left in the past. We don't see the hairstyle dubbed the "Kentucky Waterfall", "Missouri Compromise", "Mudflap", and "Tennessee Top Hat, coming back anytime soon.
Though Blake has been deemed 'hot stuff,' the star isn't one to show off his body publicly and wouldn't be caught dead in front of others in the nude.
"No! Oh Christ, I wouldn't do that to anybody," Shelton told PEOPLE when asked if he ever walked around his own home naked. "I wouldn't want my dog to have to see me naked. It's like half melted, vanilla ice cream with little hairs stuck to it. That's what I look like naked."
Thanks for that stunning imagery, Blake.
And while his fellow The Voice coach and 'Sexiest Man Alive' 2013, Adam Levine, admitted that he waxes in order show off his tattoos, Shelton says there's no way he'd take his personal grooming that far.
"No! I don't want people to stare at my body so badly that I have to remove hair from it," the Oklahoman shared.
Since it was revealed that Shelton scored the title on Tuesday, many celebrities have been having a field day poking fun at the artist. Here are some of the funniest reactions…
Little Big Town's Jimi Westbrook
I just wanted to share with everyone the moment I knew @blakeshelton was the sexiest man alive. What was your moment? @people #blakesheltonsexiestmanalive pic.twitter.com/yQZwh8qFTG

— Jimi Westbrook (@JimiWestbrook) November 15, 2017
Wow @blakeshelton is so sexy… can't believe I'm touring with such a sexy man…@people sexiest man alive kind of sexy😂 congrats bud

— Brett Eldredge (@bretteldredge) November 15, 2017
Carson Daly (The Voice Host)
@blakeshelton Not sure about the sexiest. But congrats on the recognition of being a man & being alive. Love you buddy!

— Carson Daly (@CarsonDaly) November 15, 2017
Hugh Jackman (former 'Sexiest Man of the Year')
Hey @blakeshelton … take it from me … humble only gets you so far. Milk the sexy status for ALL it's worth. The reign goes all too quickly. Just ask @VancityReynolds @people

— Hugh Jackman (@RealHughJackman) November 15, 2017
Share this humourous update with other Blake Shelton fans!