Sara Evans is a busy girl who has a lot of fun, and if you want to see it first hand, check out her webisode series on My Country Nation. Read the full story below!
Sara Evans has created a very popular reality web series for herself known as Simply Sara. Simply Sara gives fans a glimpse into the country star's professional tour life as well as her family life at home. The well-made series originally started on Sara's YouTube channel and is now available through My Country Nation, along with many other great shows.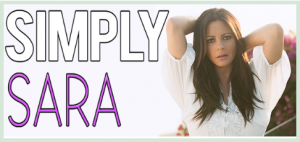 photo: My Country Nation
"My Country Nation is the digital channel for the American heartland. The Nation is diverse and active. It's about family, food and the beauty of the backyard. It's about music, sports and the roar of the crowd. It's about laughing, singing and belonging." -My Country Nation
The series already has ten episodes available to watch starting with episode 1 "Playing Sara Evans." This episode follows her as she acts and performs on the hit ABC show Nashville. Each episode is around four minutes in length and very revealing to how the star spends her days singing, acting, performing, recording, as well as being a mom and a wife. Watch the first episode below!
As you can see, Sara Evans is a very fun and playful person. She works hard and is a great role model for anyone aspiring to have career in the creative arts. If you like her show, make sure you subscribe on YouTube and share her videos with your friends.
To watch all of the episodes and see what Sara is up to next, click HERE! And for more Sara Evans news click HERE!