Country music artist Rory Feek's Tennessee farm will soon host a benefit concert for a family friend battling cancer. Get the details here!
While out to dinner with daughter Indy and some friends, country music artist Rory Feek bumped into an old friend in the restaurant parking lot. This chance meeting would give the singer-songwriter the opportunity to help someone else in their time of need.
"Although she was all smiles to see us, Tonya's heart was heavy as she shared with us that she'd recently been diagnosed with cancer. We spent a good while in the parking lot talking and catching up and as I drove home that evening I found myself hoping for an opportunity to be able to help them in some small way," Rory shared in his latest blog post.
As can be expected, Rory quickly hatched a plan to help out his dear friend and her family. On July 28th, his red barn will host a "Bluebird Cafe" style songwriter show to raise money for Tonya! The event will highlight Kelley Lovelace, Neil Thrasher, Paul Sikes, and other songwriters.
"Like so many other amazing people, Tonya and her husband Kevin and their kids were incredibly supportive of Joey's difficult cancer journey and showered us with phone calls, texts, visits and prayers. And now, just a few years later, Tonya is undergoing her own difficult regimen of cancer treatments. Besides being a mom of three beautiful girls, Tonya is a wonderful songwriter who moved here from my wife's hometown area in Indiana. It will be a special evening of lifting her and her family up with songs and stories," Rory explained.
What a neat way to rally around a friend and allow for things to come full circle.
Tickets for the event to be held at the Feek family's Tennessee farm can be found here. If you can't attend in person, but want to help out Tonya and learn her personal breast cancer story— check out her Go Fund Me page. We hope this event is a big success for all those involved and raises some much needed funds to cover medical expenses!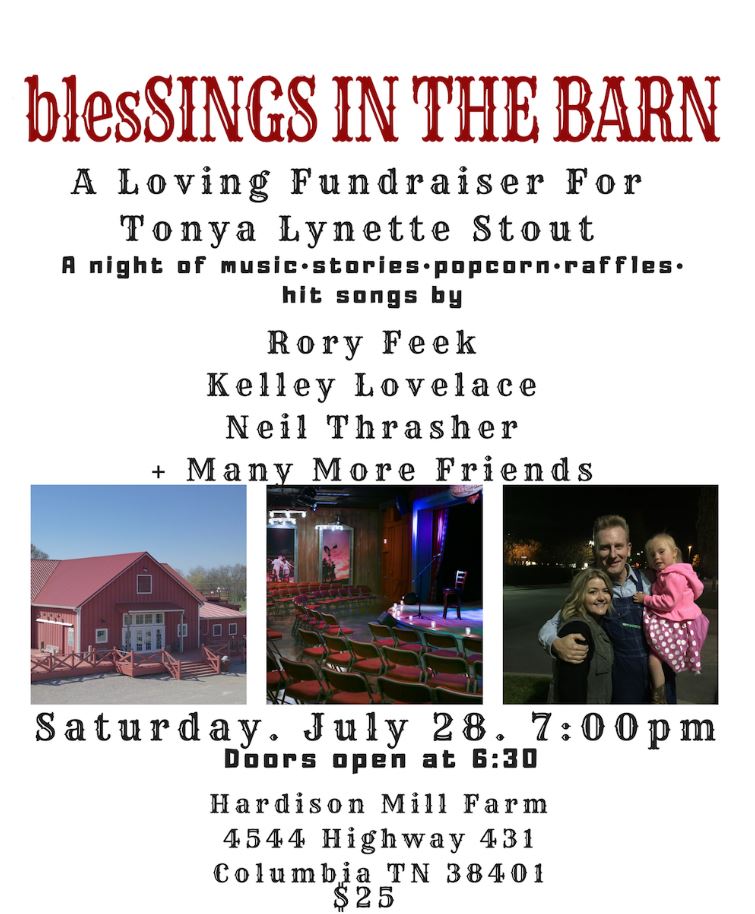 Be sure to share this information with others following the Feek family's journey!