Ronnie Milsap calls Ray Charles his hero.
Ronnie Milsap, one of the most influential country music idols of the 70's and 80's, has undoubtedly been the inspiration of many artists after him. But even this great had an idol of his own. The man that Ronnie Milsap looked up to whe beginning his career was none other than Ray Charles.
Over forty years ago, a mentorship and friendship between Ray Charles and Ronnie Milsap began. Young Ronnie Milsap found himself backstage at Ray Charles's concert one evening, and was introduced to him He said to him "Mr. Ray Charles, you're my hero. You're the man I look up to."
However, at the time young Ronnie was faced with the issue that although he had a burning passion for music, he was advised to pursue a career in law.
It was Ray Charles who detoured him from this future and brought him to the music industry. He motioned to the piano in his dressing room and asked Milsap to play him something. Milsap played him three songs, and instantly Ray Charles told him that he's destined for the music world.
It was from this moment on that Milsap would consider Charles not only a role model, but a mentor and friend as well.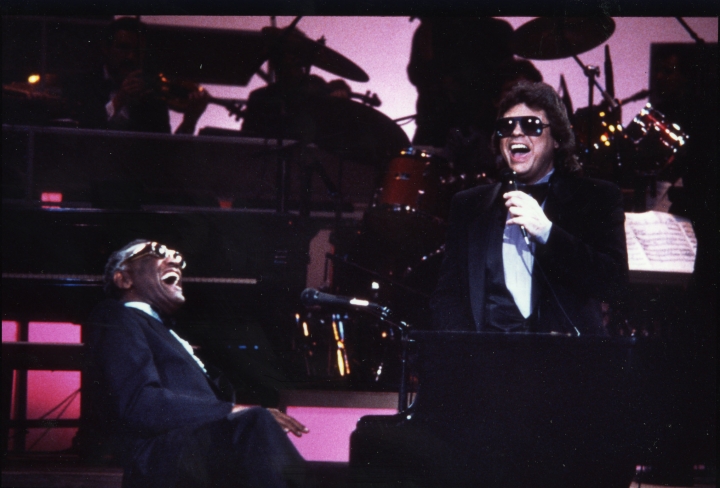 This video from a performance at Constitutional Hall in Washington, D.C. in 1983 does a perfect job of illustrating that relationship. Both Milsap and Charles perform together for the Country Music Association's 25th anniversary.
Ronnie Milsap's tour is currently underway, with stops all across the U.S. until May 5, 2017.
At the age of (something) he has no intention of ending his career. "I don't think I'll ever stop playing shows. I love it so much, and I've got a great band and a great crew." He said in an interview with The Daily Times. "We've got a big touring schedule this year, and I'm doing it with people I love to work with. I enjoy it every time I hit the stage, and the audience always makes such a big difference."
Share this with other classic country fans!