Now is your chance to hang out in Elvis Presley's breathtaking former estate in California ! Spark your imagination and take a tour here...
Living the life of the rich and famous usually includes possessing a fair share of luxuries. Mississippi native Elvis Presley certainly took advantage of his wealth, as seen by his popular Graceland mansion. Over 600,000 people visit the Memphis, Tennessee home annually!
However, most of the "Hound Dog" singer's biggest fans do not even know that Elvis also owned a 5,367 square foot house in Beverly Hills, California. After an unsuccessful attempt to sell the gorgeous property last year, the current owners have come up with an exciting new idea. Now, anyone who can afford the hefty price tag is able to rent the home!
Take a video tour of the Beverly Hill's mansion below…
So, how much cash will a night in Elvis' former pad set you back? The answer is a colossal $3,995 per night! Unfortunately there is another catch. In order to rent the house, guests must book a minimum stay of five nights, bringing the grand total close to $20,000. But as seen in the video above, if you can afford the price tag, you will not be disappointed. Boasting four private bedrooms and six massive bathrooms, there is plenty of space to split the cost with friends! In case you wanted to bring family along, there is an attached guesthouse offering extra space.
Now that the sleeping conditions are out of the way, it's time to move on to the more exciting stuff! First, the lavish home sits atop a hill overlooking the wonderful city of Los Angeles. On top of the view, the backyard is equipped with an outdoor pool and spa. During the winter months, guests may prefer to curl up by the outdoor fireplace located on the patio.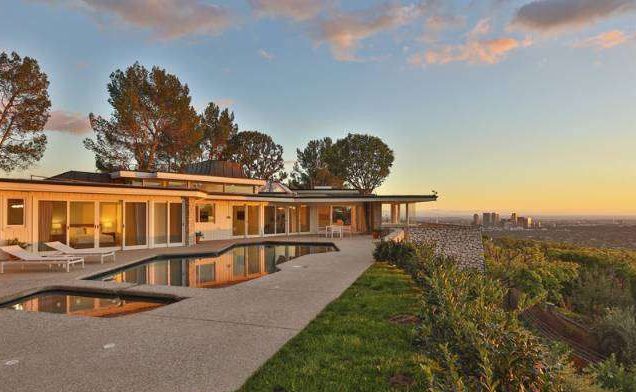 The home is also extremely private and comes with a bit of history. Years ago, Elvis' fans would line up by the mansion's gates waiting to converse with the handsome singer. The same gates are still in place!
If you still are not sold on renting the property, the cost of rent also covers a 24-7 concierge service! Does that perk change your mind? What a life Elvis lived!
Be sure to share this exciting opportunity with other fans of the late singer!