Today marks the 11th anniversary of Chris LeDoux's death.
In November 2004, Chris LeDoux was diagnosed with bile duct cancer of the liver and underwent radiation treatment for the condition until his death at 56-years-old on March 9, 2005 in Casper, Wyoming. The prolific artist is survived by his wife of 33 years, Peggy, and their five children Clay, Ned, Will, Beau, and Cindy.
LeDoux is best known nationally as a country music singer-songwriter, but he was also a bronze sculptor and rodeo champion.  Despite record label offers, he turned down possible recording contracts and opted to focus on independently releasing his music and growing his regional following.
Eventually, the true cowboy hit the national radar when Garth Brooks mentioned him in his Top-10 country hit "Much Too Young (To Feel This Damn Old)." Given the immense attention, LeDoux signed a contract with Capitol Records and released Western Underground, in 1991. His next album, Whatcha Gonna Do with a Cowboy, was certified RIAA gold and reached the top ten. The title track, a duet with close friend Garth Brooks, became LeDoux's only Top Ten country single of his career. Interesting note, Brooks offered to donate a part of his liver to LeDoux, but he wasn't a match for the transplant.
After his passing, LeDoux was inducted into the ProRodeo Hall of Fame in Colorado Springs in 2005. He was the first person to ever be inducted in two categories, for his bareback riding skills and in the "notables" category for his contributions to the sport through his musical endeavors.
To honor his memory, his hometown of  Kaycee, Wyoming created Chris LeDoux Park and the "Good Ride Cowboy" Monument. Upon its public unvieling, an estimated 4,000 people showed up to view the installation.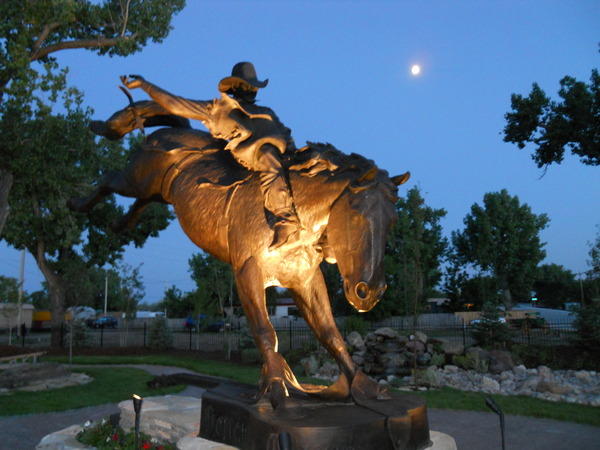 Share your memories of Chris LeDoux in the comments below and consider requesting a song from your local radio station. Rest in peace.