Trisha Yearwood performs the National Anthem at Game 1 of the World Series!
Baseball fans at Game 1 of the World Series got an extra boost in their ticket price by hearing country mega-star Trisha Yearwood sing the National Anthem! Yearwood is known for her famous career in country music and her marriage to fellow country music singer Garth Brooks.
"I love to do it," Yearwood said while taking in the scene from the field during batting practice on Tuesday (Oct. 21) night at Kauffman Stadium. "It's such an honor."
Yearwood continued "I knew when the window of the World Series was, and I said, if I can do it, I'd love to do it, I was so excited that I got to be here for Game 1."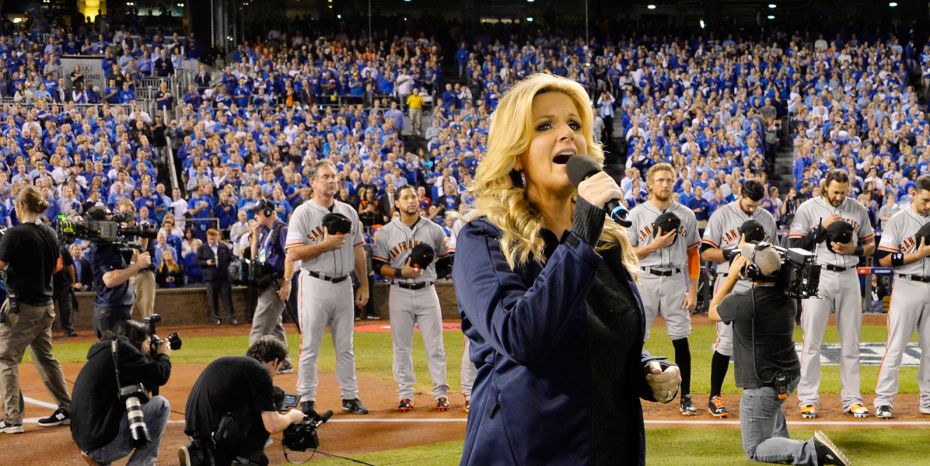 photo: Sony Music Nashville
Watch Trisha Yearwood sing the National Anthem by CLICKING HERE
The Georgia-native grew up a Braves fan, attending games in the 1970s with her sister and dad "when nobody went to Braves games". "We've been watching the game our whole lives. It's exciting for me to be here."
Yearwood admits to jumping on the Royals bandwagon with most of the country. Underdogs are always the crowd favorite in America.
In other Yearwood news, Trisha recently was on the set of ABC's Nashville, where several of her professional worlds collided all at once. The CMA award-winning singer, who has also done some acting in TV dramas, will be at the real CMAs in a couple of weeks to present an award. Yearwood joined the Nashville cast as they filmed segments for a dramatized version of the star-studded awards show, allowing the show's fictional country stars to mingle with a few who are the real deal.
Yearwood is a few weeks from releasing her 12th studio album, Prizefighter: Hit after Hit, on Nov. 17. The album will feature six new songs, including her new single "Prizefighter," and 10 hits, including her No. 1 hits "She's in Love with the Boy," "XXX's and OOO's," and "How Do I Live?"