Miranda Lambert's new video, for her third release from the album "Platinum", is off the charts hot!!
The scene starts in the desert with an airstream trailer and the license plate reading "Platinum", homage to the album that houses the song "Little Red Wagon". We see a Ram truck pull up and park, which of course is no accident because Miranda became the spokeswoman for the popular trucks earlier this year.
Then out steps Miranda with a scrappy little dog and the video begins.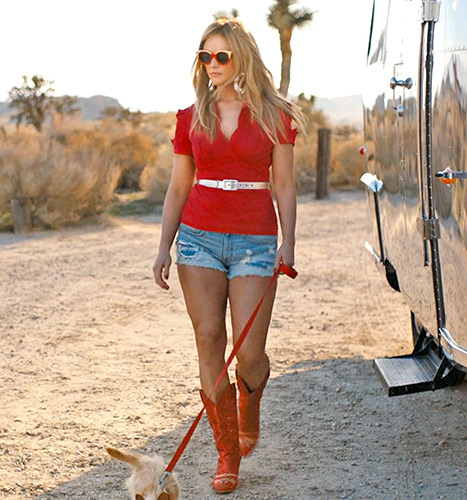 photo: c/o Miranda Lambert
It has been no secret that Miranda has shed some pounds lately and this video is obviously all about showing that off. She sports daisy duke cutoffs and and hot little red top (red is the theme of the video) as she walks with swagger into the hotel office. She charms the clerk into letting her and her pup stay there, even though there is a (not-so-strick) "no pet" policy.
The next scene shows an exchange between her and the also pretty smoking hot hotel maid, where they basically give each other pats on the backs for their mutual hotness in the form of a knowing nod.
The next scene we see Miranda at the pool. The red swimsuit she is wearing has already gone viral, you can buy it for under $100. Expect to see many on poolside ladies this summer!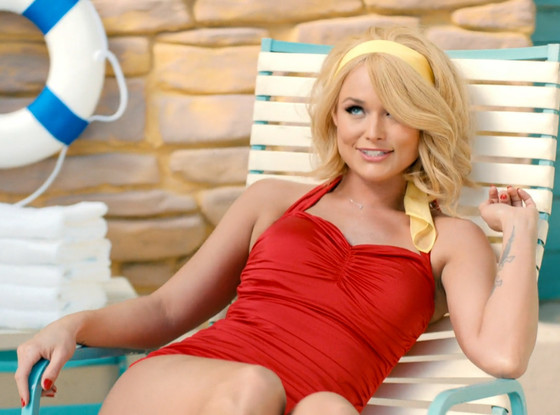 photo: c/o Miranda Lambert
The pool scene is where we see the fourth "star", after Miranda, her dog, and the hotel maid, enter the video. The pool boy becomes the source of Miranda's entertainment as she is "ooooo-ing" and "ahhhh-ing" over him as he diligently cleans the pool.
In the next scene we see the hotel maid shaking it as she is cleaning the rooms. She brings a form of sexy into the video that Miranda may be a little too innocent for. We can see why she was cast for the role, not sure if all hotel maids get down like that after we check out!
photo: c/o Miranda Lambert
Miranda tries her hand at sexy in the next scene during the break down of the song. No one can say she did a bad job. Her hair and make up game is on point and she nails bedroom vixen.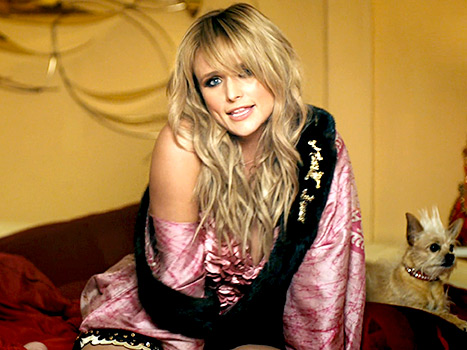 photo: c/o Miranda Lambert
She closes out the video by reminding us all she is a married woman as she struts back to her airstream wearing a rhinestone belt with "Mrs. Shelton" embroidered on it. Lucky Mr. Shelton!
All in all the video is fun and sexy without going over the top Miley Cyrus-style. It's absolutely a video you will want to watch over and over again to perfect your "backyard swagger".
TO WATCH THE VIDEO FOR MIRANDA LAMBERT'S "LITTLE RED WAGON" CLICK HERE
For more Miranda Lambert coverage CLICK HERE.