Country Living magazine's choice for the first person ever to grace the cover of the magazine is--- Miranda Lambert.
Miranda Lambert's little red wagon is on a roll! Besides being the June cover girl for Country Living magazine, the 31-year-old country superstar is also the guest editor of the issue.
Lambert shared that her new home with husband Blake Shelton is already going to the dogs— in a good way. "A friend of mine recently said, 'I can see your Pinterest boards, and all you have on there are dog rooms,'" Lambert stated. "My husband and I have 15 rescue animals, and I spend way too much time planning our pets' spaces. I'm like, okay, I probably need Miranda Lambert to move on to the laundry room!"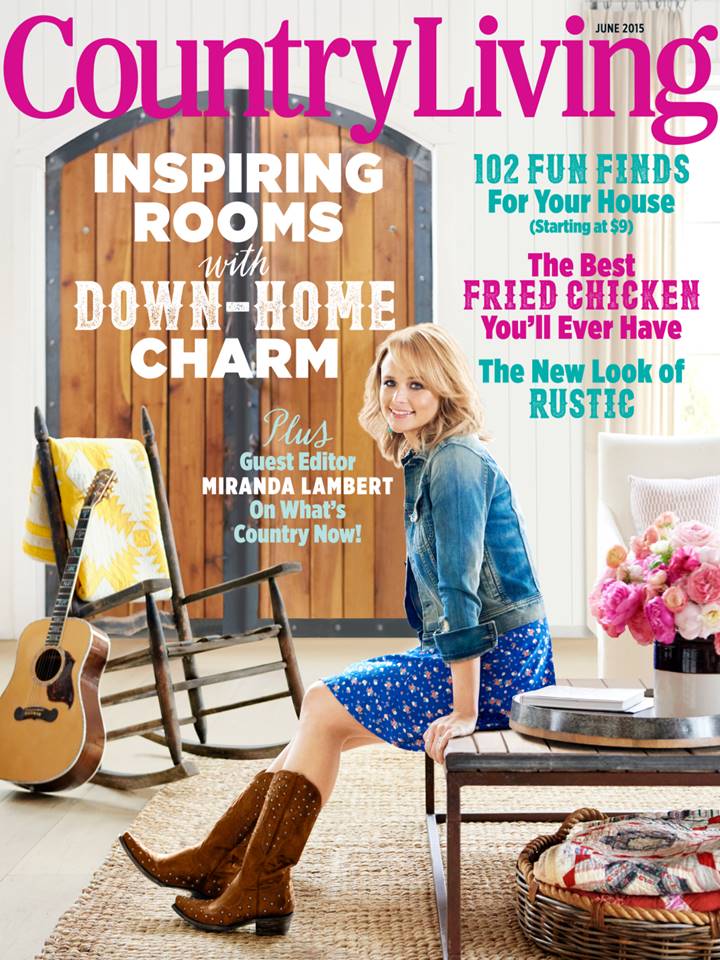 While "The House That Built Me" songstress is busy planning out her new space, she's also thinking back to her childhood.
"Growing up, my house was basically condemned when we got it, but my mother was determined to make it awesome. It had mismatched carpet, and the halls were creaky," Miranda recalls. "But those little things that were imperfect were what made it perfect. It's funny, because I had friends with really nice houses – with pools! – and they always wanted to come to our house. I think our home just had love. I think that's why country music resonates with so many people. It's not about being perfect. It's real."
Very reminiscent of these lyrics…
Mama cut out pictures of houses for years
From "Better Homes and Garden" magazine
Plans were drawn and concrete poured
And nail by nail and board by board
Daddy gave life to mama's dream
Don't fret, Blake Shelton gets a say in what happens outdoors. "My dad taught me to live off the land. I now have my own garden, but Blake is really the gardener. This year, we're planting tomatoes and strawberries to make jam. I have a little downtime this summer, so I'm looking forward to this task."
The singer also reflected on the location of her new place in the country. "There's something calming about looking out at wide-open spaces and trees as far as you can see. The country is perfect for letting your mind drift to a creative place," she explained. "I write best when I'm home on my porch with my guitar."
Look for Miranda's issue on newsstands May 19th! Keep up with all things Miranda Lambert here.
[bandsintown_events artist="Miranda Lambert" display_limit="5″]