Miranda Lambert's Certified Platinum Tour stopped in New York this past Saturday (March 28th).
Miranda Lambert recently stopped in New York City on her Certified Platinum Tour and ROCKED Madison Square Garden.
She kicked things off with her 2012 hit "Fastest Girl in Town" and the 2005 single that really started the ball rolling for her, "Kerosene." Her performance was electric as she played rock-n-roll bad girl to perfection.
The set took a more self-referential shift with "Platinum," the title track from Lambert's latest album. She then played her ballad of a double-crossing lover on "Baggage Claim" and then to the irony-soaked Platinum track "Priscilla" shows some sympathy for Priscilla Presley as a fellow spouse to a singing heartthrob, and Lambert flashed the audience her ring on the song's final note.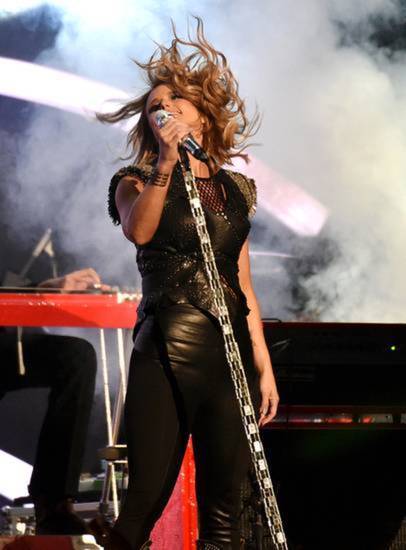 For the encore, three stools at the front of the stage were occupied by Lambert, her backup singer Gwen Sebastian (who also works with Blake Shelton and cut a hit duet with him last year on "My Eyes") and Monroe. After asserting "We all agree that there oughta be more women in country music," Lambert led the trio into a cover of the Dixie Chicks' 1999 No. 1 tune "Cowboy Take Me Away."
Making a 180-degree turn for the final song of the night, Lambert burned boldly and brightly on a rough-and-ready roadhouse version of another 1971 classic-rock staple — Led Zeppelin's "Rock and Roll" — complete with a snarling Telecaster solo. And just in case the fans suddenly forgot they were at a country show, she locked arms with her band for a bow while a recording of the Roy Rogers chestnut "Happy Trails" pumped out of the sound system.
All in all it was a GREAT show! To see more dates on her tour please CLICK HERE.
For more Miranda Lambert coverage CLICK HERE.