No mirage here, country music rocked the California desert over the weekend!
A jaw-dropping estimated 225,000 people attended the three-day Stagecoach Country Music Festival in Indio, California over the weekend. Having started up in 2007, that's one heck of a number! Good times were had by all present with country music superstars Tim McGraw, Miranda Lambert, and Blake Shelton performing along with rising stars Jake Owen, The Band Perry, Justin Moore, and the Eli Young Band.
Speaking of Miranda Lambert, what a week she's had! After her ACM Awards domination— taking home an unprecedented sixth consecutive award for 'Female Vocalist of the Year'— the Texas native took to the Mane stage as the headliner of Stagecoach's second day.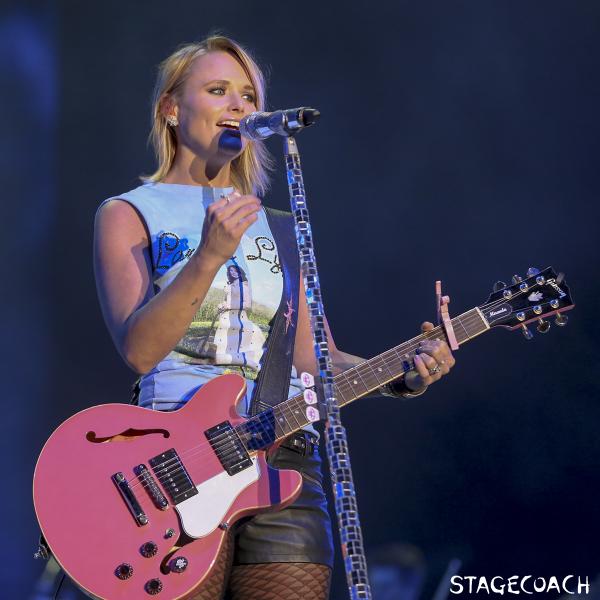 While donning a powder blue Loretta Lynn t-shirt, black leather shorts, fishnet stockings, and motorcycle boots, Lambert riled up the crowd with several favorite hits, "Fastest Girl in Town," "The House That Built Me," "Little Red Wagon," "Kerosene," "Mama's Broken Heart," and more. The 31-year-old singer also expertly covered Mountain's "Mississippi Queen" and ZZ Topp's "Tush." ZZ Topp was also at Stagecoach and played earlier Saturday evening on a nearby stage.
Classy as ever, Miranda Lambert paid homage to the legendary Merle Haggard during her one-song encore with "The Way I Am." Haggard had performed at Stagecoach the night before Lambert's set.
Between her amazing showmanship, unwavering vocals, and electric personality, Miranda Lambert dazzled the crowd and cemented her role as one of country music's leading artists. We have a feeling she'll be back at Stagecoach next year…