Miranda Lambert has taken to social media to unveil her 'The Weight Of These Wings' track list. View it here!
Miranda Lambert's upcoming album The Weight Of These Wings now has a track list! The Texan's highly-anticipated first studio album in two years touts 24 tracks titled as follows…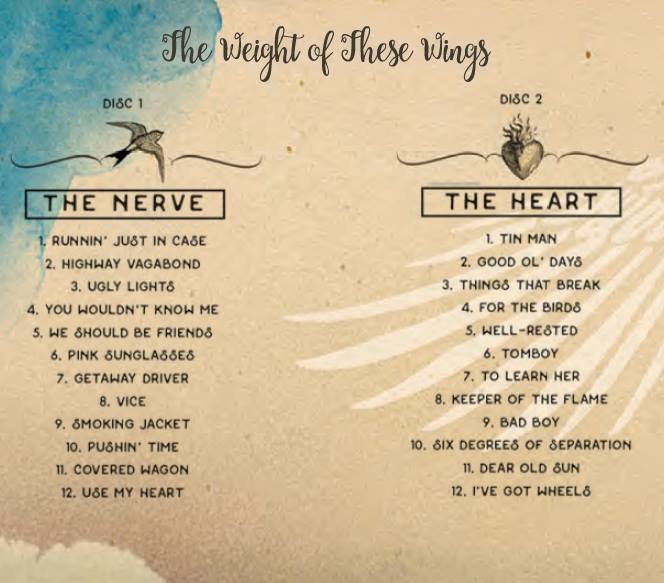 As you can see, each 'disc' has its own specific title; Disc 1 is called "THE NERVE" and Disc 2 "THE HEART."
There's no doubt that Lambert has amassed plenty of material to write about since her 2014 record Platinum was released— her high profile divorce from Blake Shelton, new relationship with Anderson East, purchasing a 400-acre farm in Tennessee, her work with MuttNation Foundation, moving her business ventures back to Texas, touring… just to name a few.
The double album hits stores on November 18th.
On Friday, the "Vice" songstress announced her upcoming 2017 Highway Vagabond Tour which will also feature special guests Old Dominion and Aubrie Sellers.
Highway Vagabond Tour Schedule
1/26 – Evansville, IN
1/27 – Springfield, MO
1/28 – Kearney, NE
2/2 – Providence, RI
2/3 – Amherst, MA
2/4 – Uncasville, CT
2/23 – Reading, PA
2/24 – Charlottesville, VA
2/25 – Charleston, SC
3/2 – Green Bay, WI
3/3 – Brookings, SD
3/4 – Grand Forks, ND
3/10 – Wichita, KS
3/11 – Tulsa, OK
3/12 – Bossier City, LA
3/17 – St. Paul, MN
3/18 – Rockford, IL
Be sure to share this awesome news with other avid Ran fans!