Miranda Lambert used her heartbreak to inspire her latest album, 'The Weight of These Wings,' and it just earned Platinum certification!
Miranda Lambert has a lot to celebrate this year. She appeared on the cover of an edition of Cosmo magazine, she hung out with Jimmy Buffet, and she also worked with her idol, Steve Earle. To top it all off, her sixth studio album just earned Platinum certification!
Her latest project, The Weight of These Wings, sold over 500,000 copies to receive such a prestigious recognition…wow! She released the album on November 18th last year, quickly reaching No. 1 on the Billboard Country Albums chart and No. 3 on the all genre Billboard Top 200 Chart. Now, just 33 weeks after its release, it earned its RIAA platinum certification.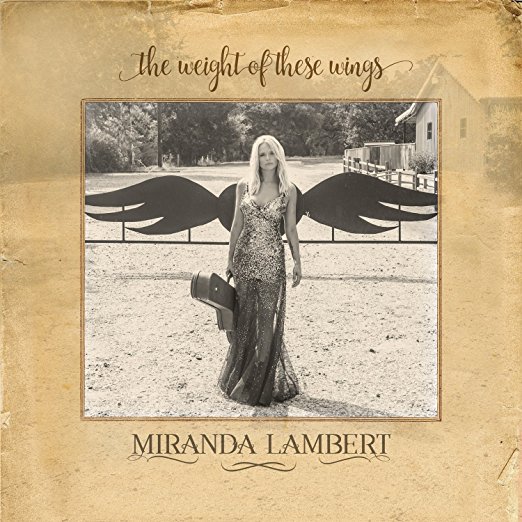 The country singer recently earned her fifth consecutive AMC Album of the Year award with this album. It received many Grammy and other ACM nominations as well. She did it all while going through a break up with her famous country star ex-husband Blake Shelton. The couple could have been named the king and queen of country at one point. However, the country power couple shocked fans when they announced their split last July after four years of marriage and another six years of being together.
"I just want to say thank you for letting me use my heartbreak and sharing it with me," Lambert said in her heartfelt AMC Awards acceptance speech. "And thanks to my daddy, Rick Lambert, who's here tonight for this beautiful title and these amazing people."
The double album has 24 songs, and its lead single, "Vice," quickly took over country radio. Fans got a peek into the double-record and clearly loved it. Almost a year later, Lambert is gaining recognition for how successful the album is as a whole. Her third single and current radio hit from this album is "Tin Man," and it is full of emotional, heart-wrenching lyrics. It is quickly climbing charts as well. Listen to it below!
Miranda Lambert is spending a lot of the summer on the road for her Highway Vagabond Tour. She is booked to play at many festivals across the country, too. The singer's upcoming performances are at Country Jam USA (July 21) and Faster Horses Festival (July 22).
Congrats to Ran!!!