Meet the woman who tamed country music entertainer Eric Church and stole his heart--- wife Katherine Blasingame Church.
Eric Church's wife (Katherine Blasingame) tamed this country singer.  North Carolina native Eric Church touts some serious outlaw country vibes and a classic 'bad boy' image, but his wife Katherine Blasingame and their two young sons bring out his softer side.
Katherine worked as a music publisher and first met Eric while on the job. "… She was trying to hook me up to write with one of her writers that she represented, that was how we met," Church told Taste of Country. "It's great now, because being a publisher and being somebody in the industry, I can bounce songs off of her, and she has the knowledge, you know, to be kind of that sounding board of what I should cut and what I shouldn't cut. So, she's one of those in the inner circle that I run a lot of stuff by."
The music industry lovebirds tied the knot on January 8, 2008 in Eric's home state of North Carolina. The pair selected Westglow Spa & Resort in Blowing Rock for their low-key nuptials. "Katherine and I stayed there last year, and we just fell in love with the place," he shared with CMT. "We decided that it would be the ideal spot to get married, up in the North Carolina mountains, with just family around us. I can't imagine a more perfect spot."
During the ceremony, Eric surprised his bride by performing "You Make It Look So Easy," a song he wrote for Blasingame. Church's tune "Like Jesus Does" also has a link back to Katherine's influence, she found the song and Eric cut it.
On October 3, 2011, they welcomed their first son, Boone McCoy Church (pictured below) and on February 15, 2015, their second son, Tennessee Hawkins "Hawk" Church was born. Their lovely Nashville home was even featured in a past episode of CMT's Cribs.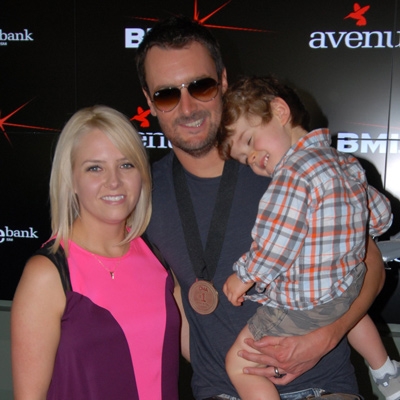 "(Boone's) favorite thing in the whole world is to get on the tour bus, which is scary for a guy who does that for a living," Church told ABC. "He likes to run around the arena. To be able to have the family out there, it also adds to the professional side. Just helps me feel like when I walk on that stage, I'm not missing another aspect of my life."
Besides their shared musical pursuits, the married couple also head up The Chief Cares Fund together, which helps underprivileged families in Tennessee, North Carolina, and across the globe. It's awesome to see such a well-matched couple thrive and play off of each other's strengths.
In an interview, Eric also shared that he goes horseback riding with his wife, "My wife loves horses, so sometimes I'll get on a horse and go riding with her. I am not a horse person, but I'll do it just to be with her for a little bit … She stays with me on the road. With kids, it's hard, but we just try to find a quiet spot together, somewhere, sometime, and that's usually enough."
Eric is set to release his next album on October 5, 2018.  In a video message speaking directly to his fans, "It's been a while; I just want to say I have missed you. I have good news…the album is done, and we are back. It's called Desperate Man and the first single is called 'Desperate Man'.   Members of his fan club will receive the album for free.
Share this with other fans of this awesome pair!