Country music entertainer Martina McBride knows how to lift a person's spirit! Check out the surprise party she threw for a loyal fan right here.
Country music star Martina McBride recently threw a very emotional surprise party for a four limb amputee in the small town of Zanesville, Ohio. The songstress' charity initiative Team Music Is Love got news from the Ohio State University Wexner Medical Center that a patient there was fighting to recover from losing part both arms and legs.
The center reported that one of patient Sandy McGee's big goals during her recovery was to get well enough to attend an upcoming Martina McBride concert that was scheduled for her hometown of Zanesville, just outside of Columbus. Sandy told doctors that Martina was her favorite music artist and she spent months this year recovering and going through rehabilitation with new prosthetic hands and legs to get ready for the concert. When Martina heard this, she wanted to do something more for her loyal fan.
She threw a surprise party for Sandy on her Love Unleashed tour stop just a few hours before playing the Muskingum County Fair in Zanesville. Sandy's entire family and her medical team from Ohio State University attended the party which happened at the local VFW hall and included a custom record player cake, balloons, and gifts.
Martina certainly gave Sandy the surprise of a lifetime as they spent part of the afternoon together laughing and discussing the upcoming concert that night. Sandy is a mother and grandmother and was a school bus driver for 20 years before a catastrophic illness caused her amputations.
Watch the awesome surprise unfold below!
Through her Team Music Is Love charity initiative, Martina McBride invites fans to join her in making the world a better place out on tour and in their own hometowns. It's all about bringing people together to do good through the power of music.
We wish Sandy and her family the best as she recovers!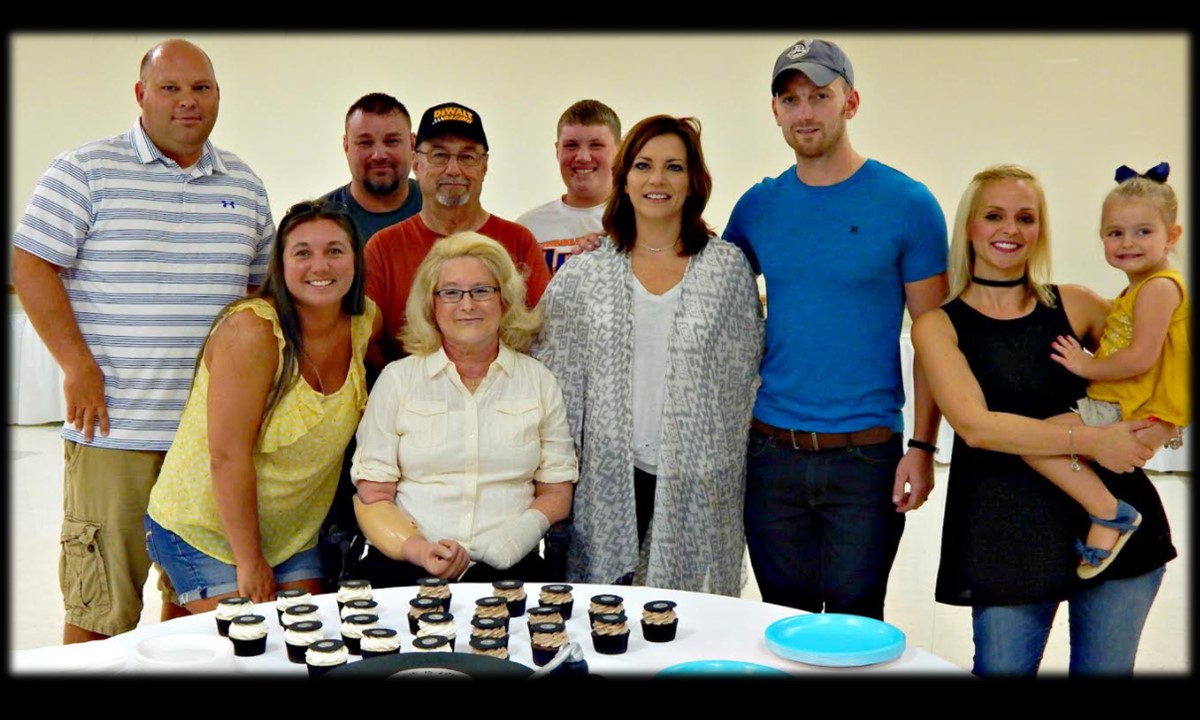 Martina McBride 2017 Tour Schedule
Aug 30, 2017 Woodstock, VA Shenandoah County Fair
Sep 2, 2017 Elkhorn, WI Walworth County Fair
Sep 8, 2017 Danville, KY The Norton Center
Sep 12, 2017 Wooster, OH Wayne County Fair
Sep 13, 2017 Morristown, NJ Mayo Performing Arts Center
Sep 14, 2017 Torrington, CT Warner Theatre
Sep 15, 2017 Lincoln Park, RI Twin River Casino
Sep 26, 2017 Bloomsburg, PA The Bloomsburg Fair
Nov 3, 2017 Grant, OK Choctaw Grant Event Center
Nov 24, 2017 Biloxi, MS Beau Rivage Theatre
Nov 25, 2017 Lake Charles, LA L'Auberge Casino
Nov 26, 2017 Fort Smith, AR First National Bank of Fort Smith Exhibit Hall
Nov 29, 2017 Troy, OH Hobart Arena
Nov 30, 2017 Paducah, KY Carson Center
Dec 1, 2017 Dubuque, IA Five Flags Center
Dec 2, 2017 Manhattan, KS McCain Auditorium
Dec 7, 2017 Wabash, IN Honeywell Center
Dec 8, 2017 Charles Town, WV Hollywood Casino
Dec 9, 2017 Charles Town, WV Hollywood Casino
Dec 14, 2017 Champaign, IL The Virginia Theatre
Dec 15, 2017 Harris, MI Island Resort & Casino
Dec 16, 2017 Harris, MI Island Resort & Casino
Dec 20, 2017 Norfolk, VA Chrysler Hall Theatre
Dec 21, 2017 Red Bank, NJ Count Basie Theatre
Dec 22, 2017 Roanoke, VA Berglund Performing Arts Theatre
Share this feel-good moment with other country music fans!