Unfortunately, Luke Bryan is familiar with personal tragedy and death as several of the country singer's closest family members have passed away tragically. Read more about his difficult past below.
Country singer Luke Bryan has overcome personal tragedy on several occasions over the past several years.  Despite his dashing good looks and talented singing voice, it is no mystery that tragedy has followed Luke Bryan for years. The Georgia native grew up as the son of a peanut farmer and supposedly could hum the tune of songs before ever saying a word. When Bryan finally reached high school, he started his own band and performed small gigs around the town. At the age of 19, Luke Bryan was ready to take his skills to the next level. So he started looking for places to stay in Nashville, Tennessee. Less than a week before his scheduled move, his older brother, Chris, passed away in a horrific car accident. Since Luke is a family man, he decided to put his musical dreams on hold after the accident and stay close to home. He continued to help his father on the farm while taking classes at Georgia Southern University.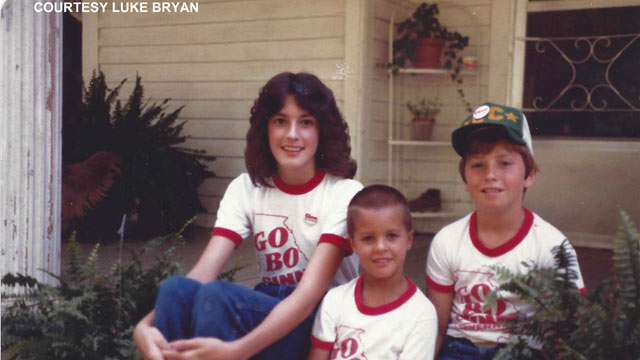 Years later, Luke Bryan got another chance when he was invited to perform at the Grand Ole Opry. This time he didn't let the opportunity slide past him. Within hours of hearing the news, Bryan's older sister, Kelly, rounded up over 100 people from their hometown to travel to Music City for the debut performance. However, less than a week later, Kelly unexpectedly passed away.  Bryan's brother-in-law Ben (Kelly's widower) also passed away just after Thanksgiving.  Luke and Caroline welcomed Ben and Kelly's son Til (their nephew) into their family joining their own two sons Bo and Tate.
After three tragic deaths in the family, many expected Luke Bryan to give up on his dreams, but he refused. As we all know, Luke Bryan has prospered in the country music genre and is know for his hit songs "Crash My Party",  "Country Girl" and several more hits.
Sadly, tragedy struck Bryan's family again last February when his niece died from liver and heart complications.  Luke's niece (Sadie Brett Boyer), is the young daughter of Caroline's brother and sister-in-law, Bo and Ellen Boyer.
Luckily, Luke Bryan has inspired hundreds of fans by overcoming so many horrible tragedies. "If me telling my story moves people down a positive path of hope and getting up out of the bed and getting back going, then, you know, it's certainly worth telling," he told ABC News.   Luke Bryan is very resilient and has demonstrated how to overcome personal tragedies.
Be sure to share this article with other Luke Bryan fans!