Country music superstar Luke Bryan has three boys in his household. Do any of them feel the pull towards pursuing a country music career? Find out here!
Caroline Boyer Bryan and Luke Bryan's three boys might not be a part of the next generation of male country stars, but that's okay.
"I place it around them when we're in the car, driving down the road. I try to mess with them. I want them to sing with me," Bryan shared with the media during the 2018 iHeartRadio Music Festival about exposing Til, Bo, and Tate to music. "Every now and again, I can really get them to commit to singing."
"I'll hear one of them in my writing room, just tinkering around on the piano. But if they come to me and go, 'Daddy, I'm ready for drum lessons,' then I'll know how to facilitate all that," the star added.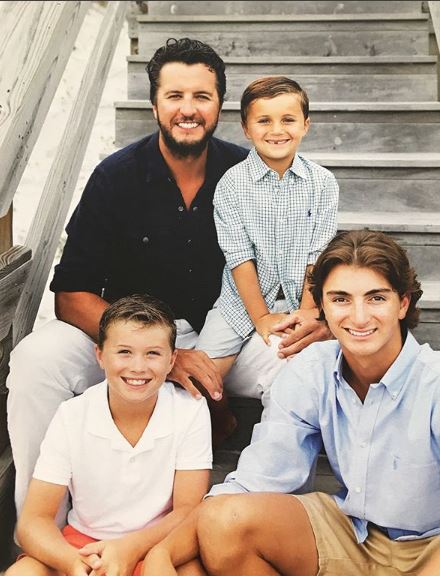 Although his teenage nephew Till (16) and young sons, Bo (10) and Tate (8), don't seem interested in pursing careers in music, they are often sharing their opinions on Luke's songs.
"They hear the new albums and they tell me which ones they like, which ones they don't really care for," the Georgia native explained. "When they're vocal about the ones they love, that's really special, but they're into everything."
No matter what the trio decide to pursue in the future, Luke and Caroline are setting them up for lives full of success by teaching them good manners.
"How [they've carved a] path toward being gentlemen and gentlemanly boys. And they're just so different. They come home and sit down they do their homework and I'm like, 'I didn't do that when I was a kid'," Luke replied when asked what makes him the most proud of his boys.
"They're just well-rounded kids — learning farm life and how to live on a farm and do outdoor things," he added, "but they've also come with me and been on set of American Idol and to these big cities and watched me do Dodgers Stadium and [have seen] the whole world and have a nice perception of it."
It sounds like Luke and Caroline are raising three real gentleman. Share this update with other fans of this country family!