Luke Bryan's family Thanksgiving will be on a grander scale this year.
Luke Bryan is having one heck of a month and has A LOT to be thankful for this year. The Georgia-born superstar clinched his second CMA Entertainer of the Year distinction on November 4th and the American Music Award for Favorite Male Artist: Country last Sunday.
"I'm thankful certainly for my health and the health of my family and my fans and that every year it seems like I've been blessed that things do get bigger and better every year, and I feel like I have cheated the system for quite a few years now," he recently told ABC News Radio Country, "so I'm excited by that and very thankful for it."
Health and well-being are definitely huge blessings— and Luke knows that all too well. Sadly in 1995, Luke Bryan lost his older brother, Chris, to a car accident when the singer-songwriter was just 19-years-old. Tragedy hit the tight-knit Bryan family again in 2007 when his sister Kelly died in her home of unknown causes. Luke and his wife, Caroline, took in their nephew Tilden to raise alongside their two sons Thomas, 7, and Tatum, 5, after the unexpected passing of his father, Ben Lee Cheshire, late last year.
Despite all the setbacks and sadness, the Bryan family has remained strong and is all set for a memorable Thanksgiving celebration. This year, Luke is helping the Salvation Army kick off its iconic holiday Red Kettle Campaign. The nationally televised halftime performance marks the 19th year the Dallas Cowboys have partnered with The Salvation Army to launch the annual cause. Over $2 billion has been raised since the Dallas Cowboys and The Salvation Army joined forces almost two decades ago.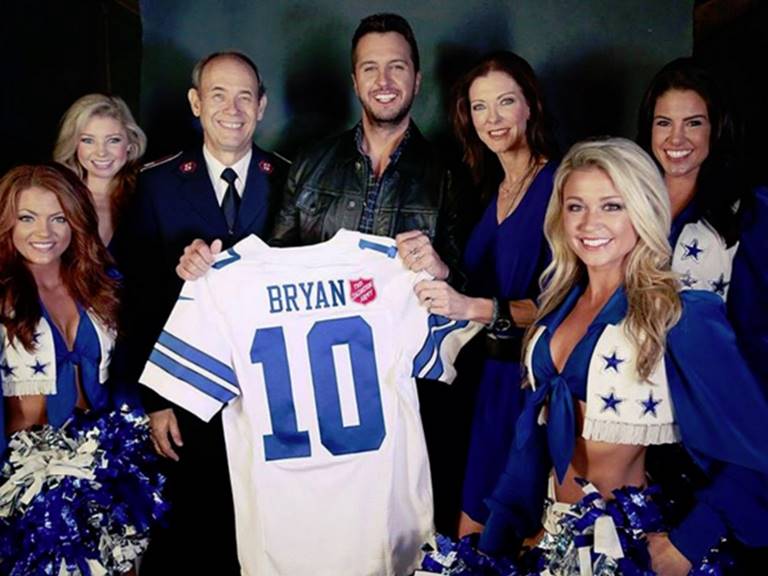 Bryan's participation in this worthwhile event means the family's feast will have quite a venue— complete with Jerry Jones as a gracious host.
"For Thanksgiving I'm doing the halftime show at the Cowboys' game, so we'll be eating Thanksgiving dinner in AT&T Stadium, which'll be amazing. We're excited to team up with the Cowboys and the Salvation Army and do that," the crooner stated.
Fans can catch the "Strip It Down" artist performing LIVE at AT&T Stadium during halftime of the Dallas Cowboys game against the Carolina Panthers on Thanksgiving Day, November 26th at 3:30 PM CT on your local CBS station.
Now for an appropriate Turkey Day jam— Luke Bryan's "Huntin', Fishin' And Lovin' Every Day."