Beloved county music standout Loretta Lynn suffered a stroke just weeks after celebrating her 85th birthday. More details here.
According to 85-year-old country music maven Loretta Lynn's official website, the icon suffered a stroke on Thursday night at her Hurricane Mills, Tennessee. Lynn is currently receiving medical care in Nashville and thankfully is responsive after the episode.
Loretta's youngest sister and fellow country star Crystal Gayle shared the following message via her Facebook Page:
"Many of you have heard that my sister, Loretta Lynn, had a stroke. Our family appreciates all your love, prayers and support. We hope for a speedy recovery! Love you all, Crystal"
The prolific singer-songwriter was scheduled to perform at the Carolina Theatre in Durham, North Carolina on Friday, and had performances scheduled across the United States through November 2017. Her upcoming scheduled shows have been postponed as she is expected to make a full recovery. Her latest studio album titled Wouldn't It Be Great is set for release on
August 18th and is available for pre-order here.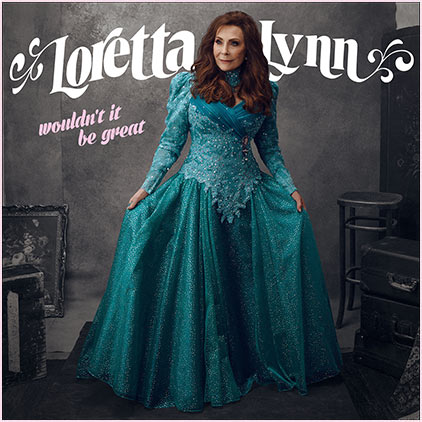 Over the span of her nearly sixty year long country music career, Lynn has earned multiple gold albums and holds the distinction of being the most awarded female country recording artist and the only female ACM Artist of the Decade (1970's). She was also the first solo female country artist to perform at the White House, at the invitation of President Richard Nixon in 1971. She returned to the White House to perform during the administrations of Jimmy Carter, Ronald Reagan, George H. W. Bush, and George W. Bush.
In 2013, Loretta Lynn was awarded with  the Presidential Medal of Freedom by President Barack Obama. The press release stated the following: "Loretta Lynn is a country music legend. Raised in rural Kentucky, she emerged as one of the first successful female country music vocalists in the early 1960s, courageously breaking barriers in an industry long dominated by men. Ms. Lynn's numerous accolades include the Kennedy Center Honors in 2003 and the Grammy Lifetime Achievement Award in 2010."
In January, The Country Music Hall of Fame and Museum announced that its new Loretta Lynn exhibit will open to the public on August 25, 2017 and run through June 11, 2018.
Our thoughts and prayers go out to Loretta and her family during this difficult time. We wish her a full and speedy recovery. Share this update with other fans of the Kentucky-born legend.