Enjoy watching emerging country music star Laci Kaye Booth's American Idol performances and learn more about the rising country music star here. . .
Laci Kaye Booth is a rising country music artist gaining plenty of attention on the 2019 Seasion of American Idol.  Watch some of Laci's top performances and learn more about the singer below.
Laci Kaye Booth Bio and Key Facts
Laci Kaye Booth Age:  Laci is 23 years old.
Laci Kaye Booth Occupation:  Laci is currently a college student and also performs country music
Hometown:  Livingston, Texas
Debut album:  Something New
Laci Kay Booth Illness – growing up she thought she had issues with her Kidneys.  Watch the American Idol interview below to learn more.
Laci Top 8 American Idol Profile (Meet Laci Kaye Video)
Both Lacy and her father Jody cites Merle Haggard as one of their musical influences and Laci covered a Haggard song during her audition.  Laci's success on American Idol is no accident, as Laci comes from a family of musicians and started singing around the age of 3. She began performing "around the house" and "in church," per her answers in recent interviews.
Laci spent several years apart from her musical talented father.  That ended when she was 15 years old and joined her father (Texas Country music artist Jody Booth) to record and play live performances with him in Arkansas.   "We really shared our music interests, that's what started us getting closer again," Laci recalls. "Music really made up for that lost time and it means the world to me because I couldn't ask for a better family or a better support system."
Laci performing with her father (Jody Booth)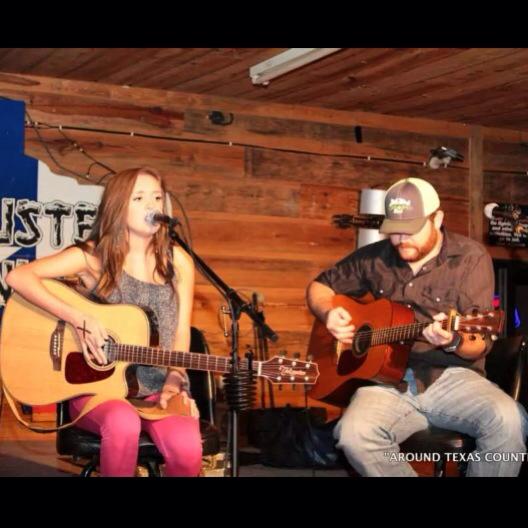 Jody Booth has worked as both a singer and songwriter in country music and continues to travel and tour in Country Music.  Jody's part two of his album, 
The Rosewood Tapes
, is due out in 2019.
Here is a summary of her American Idol Journey.
Watch Laci's joyful reunion with her father and see how they share a set of common musical influences.
Laci Kaye Booth Father Reunion
Enjoy watching 3 of Laci Kaye Booth's American Idol performances below including:
Laci's Duet with Brett Young
Laci's performance of a Cheap Trick song
Laci's cover of "Georgia On My Mind"
Laci Duet with Brett Young
Laci Kaye Booth and Brett Young perform "Mercy" during the American Idol 2019 Top 20 All-Star Duets round in front of a live audience and judges Lionel Richie, Luke Bryan and Katy Perry.
Laci's Cheap Trick Solo
Laci Kaye Booth sings "I Want You To Want Me" by Cheap Trick during the Top 20 Solo round on American Idol in front of Katy Perry, Lionel Richie and Luke Bryan.
Laci's Performance of Georgia On My Mind
Laci Kaye Booth sings "Georgia on My Mind" by Ray Charles during the American Idol Top 40 Showcase round at the Disney Aulani resort and spa in Hawaii in front of Lionel Richie, Luke Bryan and Katy Perry.
Related articles:
Watch Laci Kaye Booth's Top 6 Round Performances (as she sings songs from Journey and Janis Joplin).
Laci Kaye Booth Top 5 Performances
Laci was knocked out of the competition after the Top 5 performances.  Watch the voting results and see which three singers made it to the Top 3 for American Idol 2019.
Remember to "share" this with other country music fans.