Country music legend Kris Kristofferson has been active on the country music scene since 1966. Learn more about him here!
See how many of these Kris Kristofferson facts that you already knew. . .Kris Kristofferson, 85, is a pretty intriguing individual— a famed musician, U.S. Army officer, actor, songwriter, Rhode Scholar, and helicopter pilot. There aren't a lot of things that he hasn't tried his hand in!
Check out this collection of eight Kris Kristofferson facts below!
15 Kris Kristofferson Facts
1. Kris Kristofferson traces his roots back to Sweden, where his grandparents on his father's side originated.
2. While attending Pomona College, he experienced his first ever claim-to-fame an appearance in Sports Illustrated for his achievements in rugby, football, and track and field.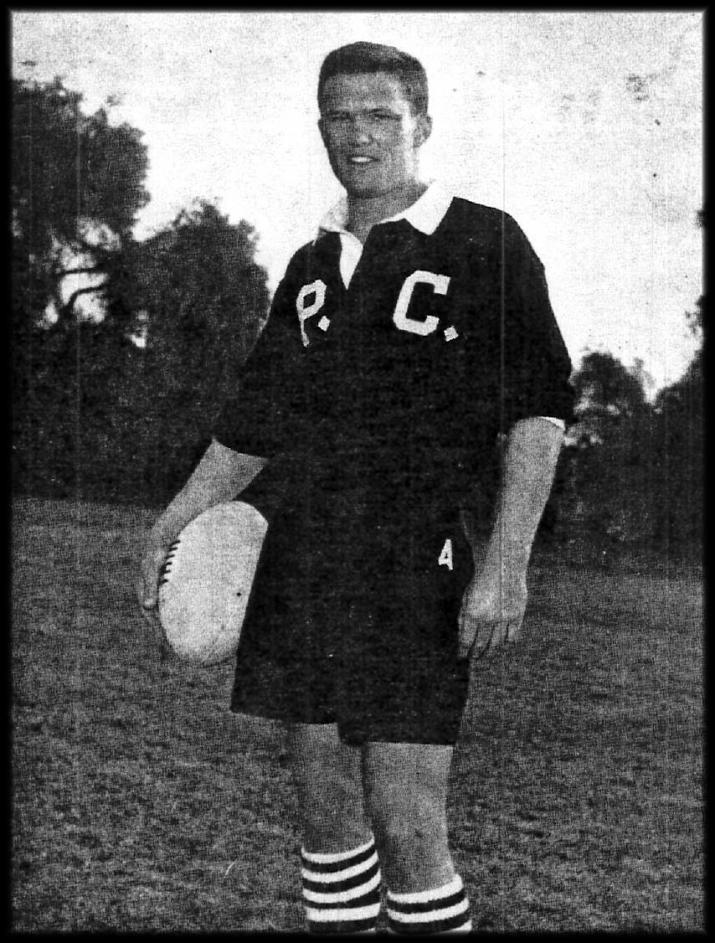 3. He was stationed in West Germany as a member of the 8th Infantry Division while serving in the U.S. Army in the 1960s.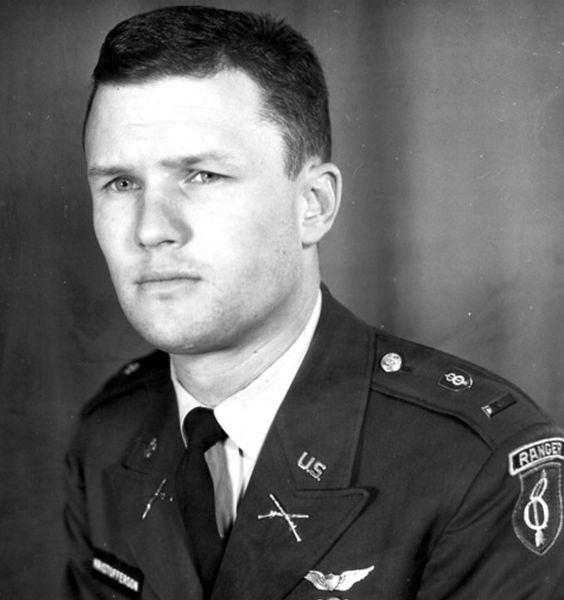 4. After his service, he was offered an assignment to teach literature at West Point, which he turned down to pursue a career in music. His family cut off ties with him after this decision, as both his father and grandfather had made careers out of military service.
5. While working as a janitor at a recording studio in Nashville, he met June Carter Cash. Kristofferson gave her a mixtape that he asked her to give to Johnny, which he ultimately ignored.
6. In order to get Johnny Cash's attention, Kris Kristofferson landed a helicopter in his yard. It worked.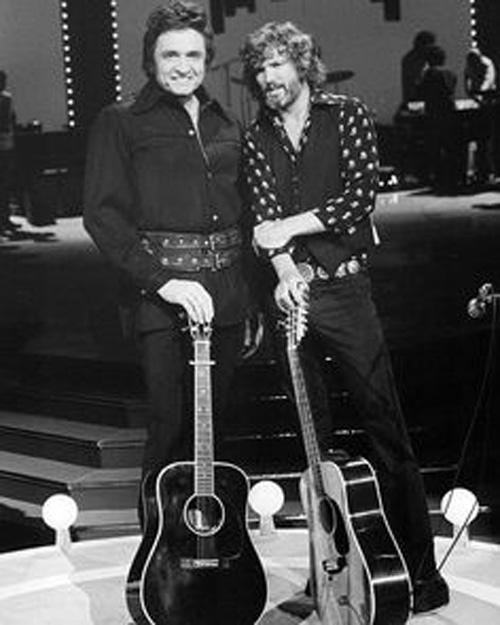 7. He and musician Janis Joplin dated for a while before her death in 1970.
8. In 1979, he traveled to Havana, Cuba and performed at the annual Havana Jam music festival.
9.  Kris Kristofferson age – Kristofferson is now 85 years old (born June 22, 1936).  Kris was born in Brownsville, Texas.
10.  Kris Kristofferson health – Kris was struggling with memory loss for a few years leading up to 2016.  He was diagnosed with Alzheimer's disease and later discovered that he was actually suffering from Lyme Disease.  His wife told Rolling Stone she believes he picked the infection up from a tick as he crawled around the forest in Vermont during six weeks of filming the movie "Disappearances."  "He was taking all these medications for things he doesn't have, and they all have side effects," she told the magazine. After the Lyme diagnosis, he dropped those medications and went through three weeks of treatment for Lyme.  "Kris is as sharp as he's been in the past 20 years because of his treatments," another longtime friend told Closer. "His wife, Lisa, and his eight children see a different Kris now. It really is a modern-day medical miracle."
11.  Kris Kristofferson Wife –  His current wife is Lisa Meyers and the couple married in 1983.  His second wife was Rita Coolidge (married from 1973 – 1980).  His first wife was Fran Beer (married from 1960 – 1969).
Kris and Lisa Meyers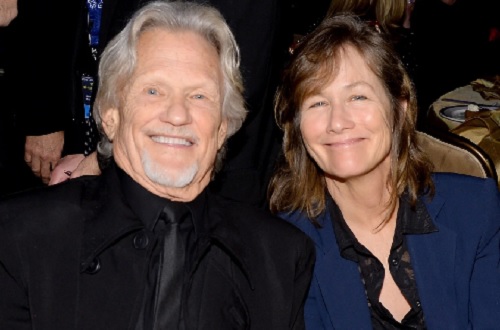 12.  Kris was inducted into the Country Music Hall of Fame on November 9, 2004.
13.  Kris was a member of the super group "The Highwaymen"  – The Highwaymen were an American country music supergroup, composed of four of country music's biggest artists who pioneered the outlaw country subgenre: Johnny Cash, Waylon Jennings, Willie Nelson, and Kris Kristofferson. Between 1985 and 1995, the group recorded three major label albums as The Highwaymen.  The group produced three chart singles, including the number one "Highwayman" song in 1985.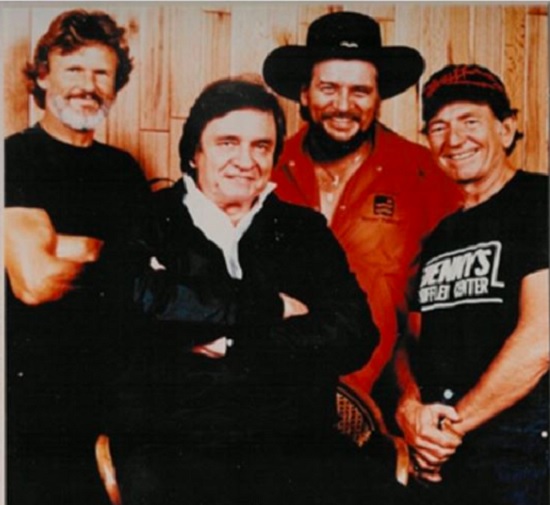 14)  Kris Kristofferson Acting career
– he is known for his roles in Pat Garrett & Billy the Kid (1973), Blume in Love (1973), Alice Doesn't Live Here Anymore (1974), A Star Is Born (1976) (which earned him a Golden Globe Award for Best Actor), Convoy (1978), Heaven's Gate (1980), Lone Star (1996), Stagecoach (1986), and the Blade film trilogy (1998–2004).
Kris with Barbara Streisand (A Star is Born)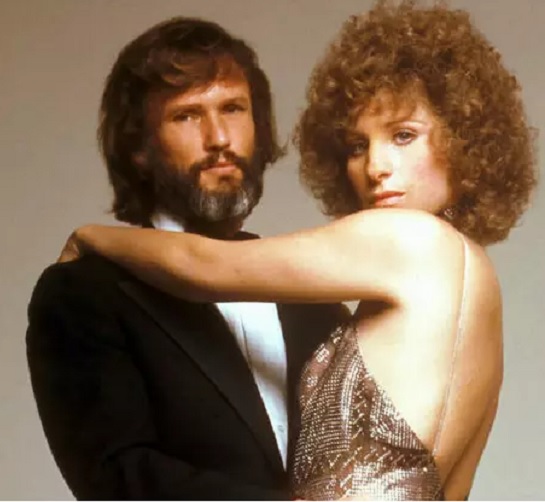 15.  Kris Kristofferson Kids
– Kristofferson has eight children from his three marriages.
2 kids from the first marriage – daughter Tracy (b. 1962) and son Kris (b. 1968) from his first marriage to Fran Beer
1 kid from his second marriage – daughter Casey (b. 1974) from his second marriage, to Rita Coolidge
5 children from his current marriage including:  Jesse (b. 1983), Jody (b. 1985), Johnny (b. 1988), Kelly Marie (b. 1990), and Blake (b. 1994) from his marriage to his current wife Lisa (Meyers) Kristofferson
Share this with other classic country music fans!