It was a monumental night for Kenny Chesney and fans as his Big Revival Tour brought over 200 boats, broke an attendance record, and inspired a "JurassicWorld" themed movie clip!
The hype around Kenny Chesney's 8th sold-out appearance at Pittsburgh's Heinz Field was impressive… The No Shoes Nation navy, eventually numbering well over 200 boats showed up and local filmmakers even created a "JurassicWorld" teaser clip, featuring the country star towering over the iconic football field, which went viral…
So when Chesney got on stage Saturday night, Pittsburgh was primed and ready to rock. With attendance of 55,381, Chesney broke his own attendance record – set in 2007 at just over 54,000.
The Post-Gazette wrote Chesney "let loose on stage, he was in constant motion with rousing sing-along faves like 'Beer in Mexico,' 'Keg In The Closet' and 'Summertime' and well-received new ones 'Til It's Gone' and 'American Kids.'
"Heinz Field was the first wave of NFL Stadiums I played after (Knoxville's) Neyland Stadium. The Pittsburgh fans have so much heart, grit and muscle, they almost shove you off the stage," Chesney said.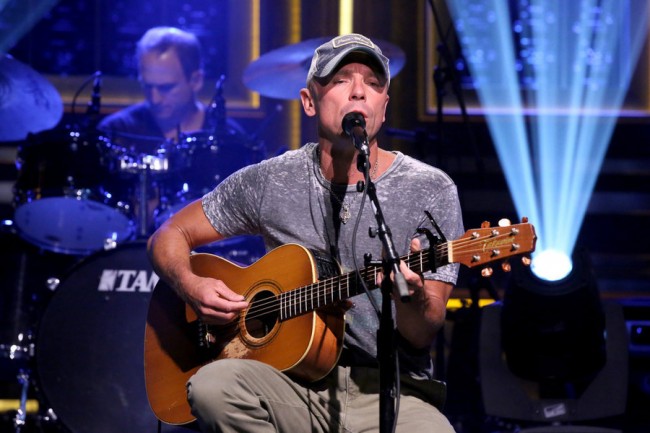 "We've had some amazing shows this year, so I knew we were ready and hungry for Pittsburgh."
"We were ready, the No Shoes Nation was readier," Chesney said immediately after his sweat-soaked show.
"They throw it at us, and it drives us even further. Whatever they give, we wanna give back, and man, that was some night out there. I got to do 'When I See This Bar' with Eric Church – and that's always special because it says everything about what people like the No Shoes Nation find in the music. Even that horrible storm that had trees down didn't blunt their enthusiasm in any way. It was crazy in Heinz Field."
For more Kenny Chesney coverage CLICK HERE.
[bandsintown_events artist="Kenny Chesney" display_limit="20″]