Kenny Chesney made a stop at historic Lambeau Field Saturday, June 20, and Green Bay was more than ready for The Big Revival Tour.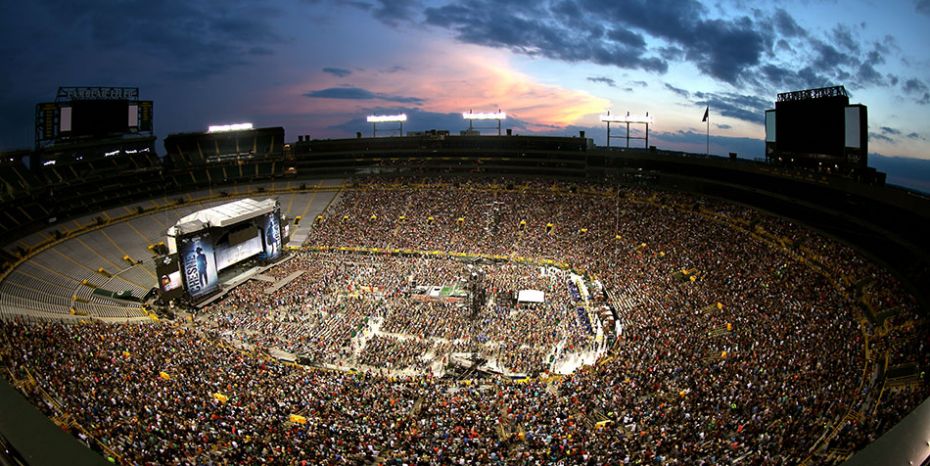 8-time Entertainer of the Year Kenny Chesney had another amazing concert during a stop on his current Big Revival Tour. For the second time, he took over the Lambeau Field in Green Bay and the crowd was expansive and ready to party with Kenny.
"I've waited all week," he told the record-breaking crowd of 53,363 people, "to be right here… in this place… because right now, we're together. The music matters, life matters, you matter – and we're going to celebrate that together tonight!"
Chesney played 24 songs to the eager crowd of his No Shoes Nation and brought along surprise guest Grace Potter on stage.
He explained the day was special because "a couple days ago, I got to call Grace Potter and tell her not only are we playing Lambeau Field, we have a #1 record." That set up the week's chart-topping "Wild Child" as a sea of hand-lettered placards were thrust into the air. It was followed by a particularly heart-tugging "You And Tequila".
As "You And Tequila" faded, a 5-tiered cake was rolled from the wings down the T, along with a giant margarita. Chesney – the only concert to play Lambeau Field two times – then led the crowd of 53,363 strong through singing "Happy Birthday" to Potter.
"To be able to surprise Grace like that? Talk about awesome. We have had so many adventures, made some really great music… The look on her face hearing that crowd sing was beyond any gift I could've given her, and no one appreciates the fans more."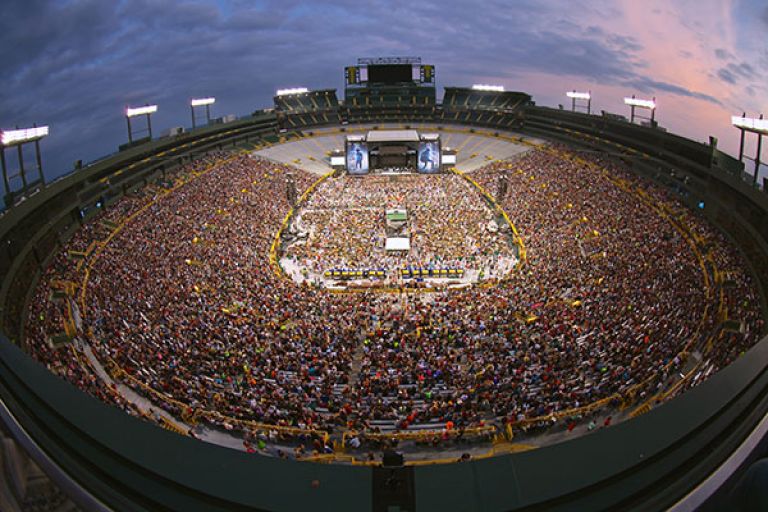 Green Bay Packers head coach Mike McCarthy eventually joined Chesney on stage for "The Boys of Fall." Signing a Packers helmet, McCarthy helped the East Tennessean give the special memento to a young girl.
"Some nights are just magical," Chesney said later. "That show was like an out of body experience: the crowd was right there with us… The band was so hot and in the zone… I felt completely connected to everyone in the stadium. It's the kind of night you hope for every time, and spend your whole career chasing: nights when the songs, the fans, the band and you are one."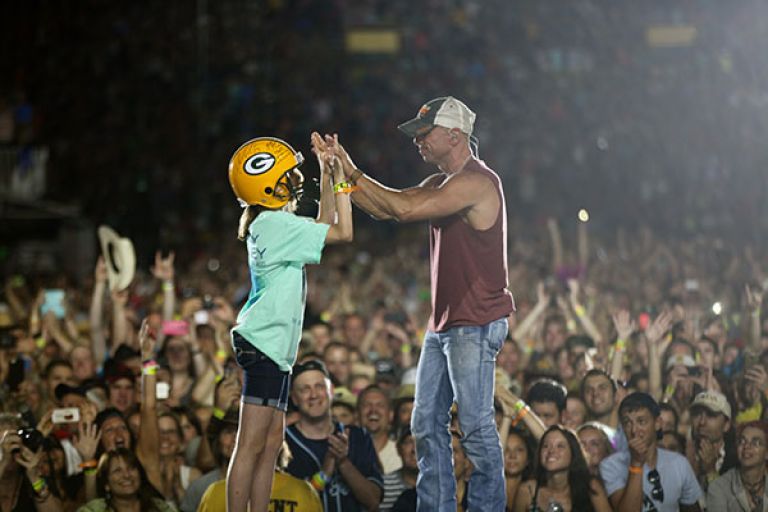 The only country artist in Billboard's Top 10 Touring Acts of the Last 25 Years, Chesney's been tearing up stadiums all summer. He's broken his own record at Pittsburgh's Heinz Field with 55,381, and prompted The Dallas Morning News to opine "Two parts Mick Jagger, one part Bruce Springsteen and one part Billy Graham" after his AT&T Stadium show.
"There are times it all just feels right," Chesney enthused. "Green Bay, Lambeau Field, those fans who're all heart and passion: that's why I fell in love with playing years ago. When people see their lives in your songs – and throw that energy back, there's nothing like it."
For more Kenny Chesney coverage CLICK HERE.
Kenny Chesney You and Tequila Music Video