Kenny Chesney's 'Cosmic Hallelujah' is about to drop!
With his compulsion to get the music "just right," Kenny Chesney's Cosmic Hallelujah has taken some unpredictable turns— and some time. But in the end, the follow-up to his hit album The Big Revival has been finalized and is almost ready for public consumption.
Check out the cover art below!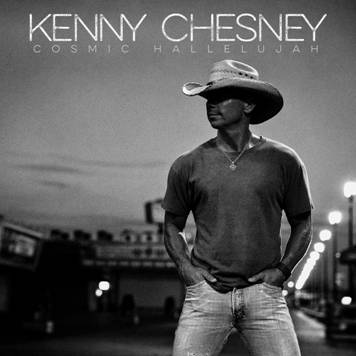 "I've been blessed with some of the best songs out there, some songs written, actually, just for this album by writers whose work I've loved for years," Chesney explains. "When 'Setting The World On Fire' came together, it opened a window of time – and some songs that had come in after we were done, I didn't have to save for the next album. Suddenly, everything was changing, and the album I'm releasing now has a lot of what made Some Town Somewhere capture the essential part of who the No Shoes Nation is, but really takes the your-life-is-now piece of The Big Revival and expands it."
The superstar continues, "And there's one very special song I've been holding for years called 'Coach' that we went in and re-cut. It really captured that song's heart."
Beyond his moving duet with pop star P!NK, "Setting The World On Fire," and the creative blast of "Noise," Cosmic Hallelujah includes "Some Town Somewhere," the album title source's percolating philosophy, "Trip Around the Sun," the Tom Petty-esque coming-of-age, "All The Pretty Girls," the breezy romance of "Bar at The End of the World," the DIY get-out-of-towner, "Winnebago," the homage to small town dives, "Jesus and Elvis" and the worry-jettisoning "Bucket," as well as the priority questioning, "Rich and Miserable," that's Chesney's most musically ambitious track yet.
Kenny Chesney's Cosmic Hallelujah Track Listing
1. "Trip Around the Sun" (Nick Brophy/Brett James/Hillary Lindsey)
2. "All the Pretty Girls" (Nicolle Galyon/Tommy Lee James/Josh Osborne)
3. "Setting the World On Fire" ft. Pink (Ross Copperman/Matt Jenkins/Josh Osborne)
4. "Noise" (Kenny Chesney/Ross Copperman/Shane McAnally/Jon Nite)
5. "Bucket" (Brett James/Craig Wiseman)
6. "Bar at the End of the World" (J. T. Harding/Aimee Mayo/David Lee Murphy)
7. "Some Town Somewhere" (Ross Copperman/Heather Morgan/Josh Osborne)
8. "Rich and Miserable" (Jesse Frasure/Shane McAnally/Josh Osborne)
9. "Jesus and Elvis" (Matraca Berg/Hayes Carll/Allison Moorer)
10. "Winnebago" (David Lee Murphy)
11. "Coach" (Kenny Chesney/Casey Beathard)
As "Setting The World On Fire" grazes the Country Top 5 and flirts with the pop charts, look for Cosmic Hallelujah October 28th.