Country music starlet Kelsea Ballerini certainly turned heads while showing off Zac Posen's latest designs. Learn how to get her look for a steal...
In late April, Kelsea Ballerini attended and performed at the Nashville Symphony Fashion Show, which featured a preview of Zac Posen's Fall Collection. The event, which was hosted at the Nashville Schermerhorn Symphony Center, was a celebration of music and fashion. Kelsea showcased her musical talents with a three-song set to end the night, and wowed the crowd in multiple gorgeous Zac Posen dresses. Here, we'll show you how to get some of her looks for less!
1. A Soft Glam with a Rockin' Highlight
To get Kelsea's flawless face, you don't need your own glam squad. A subtle contour and fresh, dewy highlight are perfect for a runway soiree. We love these chubby, dual-purpose crayons from trèStiQue (which are on sale right now at GiltCity.com!). Use the darker shade in the hollows of your cheeks, and blend out. Take the shimmery highlight crayon to accentuate your cheekbones, and blot with a BeautyBlender to make the look natural and fresh. A light nude-pink shade on the lips goes great with a smoky gold eye to complete your makeup!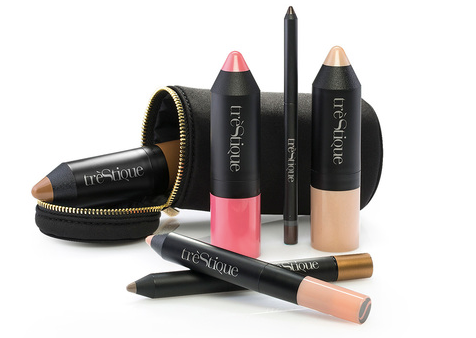 2. Ruffled Ballgown That's Perfect for Dancing
Kelsea's ruffled dress look was AMAZING. If you can't afford off-the-runway Zac Posen, there are similar options online from a variety of different designers at different price points. Neiman Marcus has a
ZAC Zac Posen dress on sale
in a navy color that features a peplum ruffle at the waist, and we found this
Jill Stuart one
on
Gilt.com
for 45 percent off retail price. Pair it with Kelsea's high pony tail to look perfectly high fashion.

3. Playful Pops of Color
Kelsea's vintage inspired polka dot look was her most playful of the night. She added a perfect pop of color with hot pink open toe heels. You can find these a similar pair by Sam Edelman here, for less than $150. Pair these with any outfit for an instant "wow" factor.
We're so jealous that Kelsea got to play dress up for a night in these gorgeous runway looks, but now you can too with these amazing looks for less! Be sure to share this with other fans of the "Yeah Boy" songbird!