That's right, Kelly Clarkson has written a second children's book inspired in part by her daughter River Rose. More on the upcoming release, here!
This October 24th, multi-talented entertainer Kelly Clarkson is slated the release her second children's book titled, "River Rose and the Magical Christmas." The book will also star a character based on her young daughter, River Rose, with husband Brandon Blackstock. Her first-ever children's book, "River Rose and the Magical Lullaby," debuted in 2016 and was a best-seller.
The powerhouse vocalist unveiled her project via a video posted to her official Facebook Page, which features Kelly talking about the book during a faux press conference. Where is little River Rose anyway…? 😉

"The real River Rose … she loves Christmas," Clarkson shares in the clip about her 3-year-old daughter. "She's at such a fun age … It's a fun time for kids and Christmas, and she just gets so excited about it."
The new book's premise revolves around Christmas Eve and River Rose deciding to stay up all night in order to personally deliver her special letter to Santa Claus. Before she knows it, she and her faithful dog Joplin drift off to sleep and are swept up on a magical adventure to the North Pole.
River Rose's favorite night was always Christmas Eve.
She knew Santa would stop by because she did believe.
River Rose and her dog Joplin had written him a letter.
And they were waiting up for him, hand-delivered would be better.
"River Rose and the Magical Christmas" will also include a full song Clarkson wrote and is now available for pre-order here.
"We thought it would be more fun, since it's a Christmas book, that I could write, like, a full song that could have been, like, on my Christmas album," Clarkson reveals.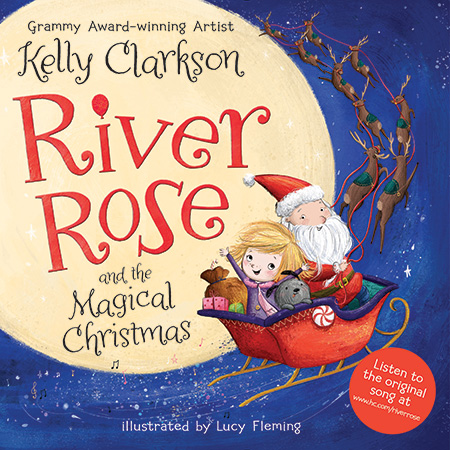 Besides authoring children's books, Clarkson is simultaneously working on a new album, which also is expected to come out later this year. No word yet on when River Rose's 1-year-old little brother, Remington Alexander, will get his very own book series.
Share this news of Kelly Clarkson's latest children's book with other fans of the star!