As a rising country music star, Kelleigh Bannen is beginning to learn a lot about the "superfan" relationship.
Kelleigh Bannen is a rising country music star with loads of southern charm and a growing catalog of relatable songs. Fans are currently loving her hit songs, "Famous" and "Cheap Sunglasses," and she has already released an EP in 2016. She admits that building a music career can be challenging, though. In her free time, she writes a personal blog about the realities of life as a musician.
The blog talks about various topics, including beauty, fitness, and fashion. However, every other week, she records a podcast. She believes that the sound of the human voice allows her to better connect with her audience. Her most recent podcast was about her fans.
These fans are the fuel behind her budding music career— and country artists tend to be very connected with their fans. Bannen included her fans in this podcast by reaching out on Twitter, requesting fans to give their input on fan culture and define the term "superfan."
Here are some of their responses: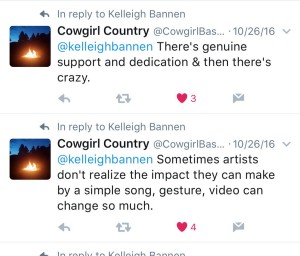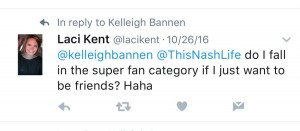 Bannen was surprised with how quickly her Twitter account blew up with responses. She then recorded the podcast about the pros and cons of fan culture, even including input from Jencita Vargas, a self-proclaimed superfan of Taylor Swift. The episode explores the boundaries of the fan/artist relationship and what is appropriate.
There are some fans who become obsessive and creepy, while others share their adoration in a positive way. The "superfan" term is defined in the podcast as someone who is dedicated to promoting the artist. Though the term can be used both positively and negatively, Bannen believes that superfans can be beneficial to a career.
The entire thought-provoking podcast runs about 30 minutes and you can listen to it here.
Be sure to share this with other Kelleigh Bannen fans!