Kelleigh Bannen has been gaining popularity for her country charm and hit songs, but she does more than singing. She is also a fashion and makeup guru!
Kelleigh Bannen is not just a singer.
She also has a passion for makeup and fashion.  As she writes her blog about the music business, she has two other sections; one titled Beauty and one titled Fashion.  In either of these subcategories, you can find makeup tutorials or the latest fashion trends.  She even lays out all the pieces of her outfit as well as all the types and brands of makeup used in making the look.  This can be really helpful for girls who are interested in makeup and fashion and who look up to Kelleigh Bannen as she rises in popularity as a female country artist.
Her most recent beauty blog posts have been meeting makeup artists that contribute to her stage-ready look.  But sometimes she makes her own looks.  She has one post about "Stage Legs," giving readers a backstage look at what it takes to get legs that look fantastic while performing on-stage. Bannen provides the ins and outs of body makeup, no squats required.  Take a look at the video here:
Whether you look for stage legs, winged liner, or simple red lips, Kelleigh Bannen has you covered!  She enjoys sharing her opinions of the makeup she uses and informing others how to achieve the ideal makeup look.  Bannen even gives reviews of certain beauty products.  Check out her blog for the latest beauty news!
As for her love for fashion, this category of her blog has plenty of pages to scroll through. All the posts have some really helpful tips for how to dress during certain occasions or whats the latest trend of the month.  Her post titled "Little Black Dress Redux" is a look at how little black dresses (or jumpsuits) are elegant and fashionable, and can still be trendy!  She has several styles of dresses/jumpsuits: edgy details, midi length, jumpsuits, and lace, which each give you the option to scroll through examples.  By clicking on an individual dress, you can go straight to the website to buy the item.  http://thisnashvillelife.com/little-black-dress-redux/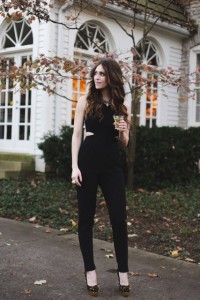 Bannen gives her informative opinion on little black dresses, as well as other fashion statements within her blog. Her makeup tutorials and looks show that she is a down-to-earth country star who sometimes loves to play dress up!  Girls should look to her for the latest fashion and beauty advice.
Share with other fans of fashion in the country music industry!