Country music singer-songwriter Keith Urban's daughter, Sunday Rose, gave him a very thoughtful Father's Day message! Check it out here...
Actress Nicole Kidman and country music superstar Keith Urban's daughter, Sunday Rose, gifted fans with a rare peak into the famous family's home life. On Father's Day (6/16), the 10-year-old's snapshot of her father taking a big leap was shared via Nicole's Instagram with the caption: "Happy Father's Day to the best, coolest dad in the world. Photo by Sunday Urban."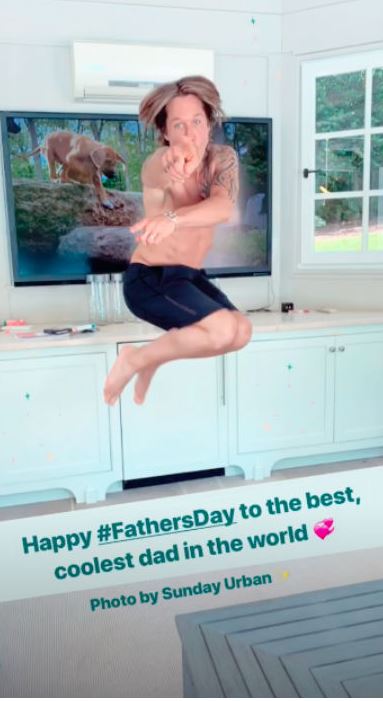 In addition to Sunday, Nicole and Keith also have an 8-year-old daughter named Faith Margaret. If you're a Big Little Lies fan, keep an eye out for both girls acting as extras in the playground scenes. Having small parts on the show have allowed the pair to enjoy more involvement in their mother's line of work and spend time with her on the set.
"Yeah, they're around a lot and I sometimes can't tell when they're actually in a scene or just hanging out," Big Little Lies actress Zoë Kravitz (Bonnie Carlson) shared late last year during an interview with Entertainment Tonight. "But they're so sweet and really really smart. You can tell they were raised by Nicole Kidman."
It will be interesting to see what line of work Nicole Kidman and Keith Urban's daughter, Sunday, pursues— looks like photography could be an interest of hers. Goodness knows she has two very good subjects at home to photograph!
Share Nicole Kidman and Keith Urban's daughter Sunday's snapshot with other fans!
June 22 Chicago, Illinois | Lakeshake Festival
July 4  Provo, Utah | America's Freedom Festival at Provo
July 19 Brooklyn, Michigan | International Speedway
July 20 Eau Claire, Wisconsin | Country Jam USA
July 26 Cheyenne, Wyoming | Cheyenne Frontier Days
Aug. 1 Detroit Lakes, Minnesota | WE Fest
Aug. 2 Sioux Falls, South Dakota | Sioux Empire Fair
Aug. 3 Sturgis, South Dakota | Buffalo Chip Campground
Aug. 16 Endicott, New York | Dick's Sporting Goods Open
Aug. 31 Puyallup, Washington | Washington State Fair
Sept. 15 Louisville, Kentucky | Hometown Rising
Sept. 21 Franklin, Tennessee | Pilgrimage Festival
Oct. 18 Durant, Oklahoma | Choctaw Grand Theater