Keith Urban's 'Be Here', 'Love, Pain & the Whole Crazy Thing', and 'Graffiti U' are now on vinyl for the first time ever! Get the details here!
Country music entertainer Keith Urban's career has seen the release of nine consecutive platinum albums, 23 #1 songs and six #1 albums, including his latest Graffiti U. HNow, three of the star's best-loved albums—Be Here (2004), Love, Pain & the Whole Crazy Thing (2006), and Graffiti U (2018)—are available now on vinyl for the first time ever. These select albums are pressed on standard weight black vinyl and have all been expanded to 2LPs to present the music in the highest quality. These versions can be found here.
Urban's ninth studio album, Graffiti U, finds the artist revisiting some of his earliest musical influences while exploring some new creative avenues. The album includes the hits "Female," "Parallel Line" and its latest song "Coming Home," featuring American singer-songwriter Julia Michaels.
The double platinum smash Love, Pain & the Whole Crazy Thing, features the #1 hit "Once in a Lifetime," which set a record for what was then the highest debuting single in the six-decade history of Billboard's Hot Country Songs chart, along with three more Top Five hits: "I Told You So," "Everybody," and Urban's second Grammy-winning song "Stupid Boy."
Be Here, Urban's third American album, achieved platinum sales four times over, spawning no less than three Number #1 singles, "Days Go By," "Better Life" and "Making Memories of Us."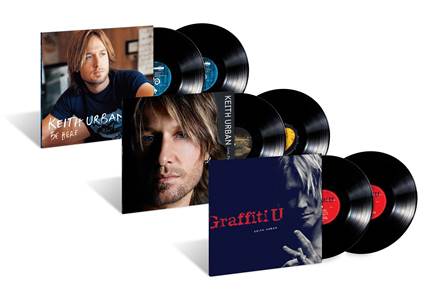 Graffiti U on Vinyl 
LP1
SIDE A
Coming Home (featuring Julia Michaels)
Never Comin' Down
Same Heart
(My Wave Intro)
My Wave (featuring Shy Carter)
SIDE B
Parallel Line
Drop Top (featuring Kassi Ashton)
Way Too Long
LP2
SIDE C
Horses (featuring Lindsay Ell)
Gemini
(Texas Time Intro)
Texas Time
SIDE D
Love The Way It Hurts (So Good)
Female
Steal My Thunder
Love, Pain & The Whole Crazy Thing on Vinyl 
First time on vinyl
LP1
SIDE A
Once In A Lifetime
Shine
I Told You So
SIDE B
4. I Can't Stop Loving You
Won't You Let You Down
Faster Car
Stupid Boy
LP2
SIDE C
Used To The Pain
Raise The Barn (feat. Ronnie Dunn)
God Made Woman
SIDE D
Tu Compania
Everybody
Got It Right This Time
Be Here on Vinyl 
LP1
SIDE A
Days Go By
Better Life
Making Memories of Us
SIDE B
God's Been Good to Me
The Hard Way
You're My Better Half
LP2
SIDE C
I Could Fly
Tonight I Wanna Cry
She's Gotta Be
SIDE D
Nobody Drinks Alone
Country Comfort
Live To Love Another Day
These Are The Days
Share this news with other Keith Urban fans!