Keith Urban and Nicole Kidman are often in the international spotlight, but they work to keep things as normal as possible at home for their daughters.
Country music superstar Keith Urban and award-winning actress Nicole Kidman are a double dose of star power and their unconditional love for each other is that of a fairy tale. Though they have heaps of fame and fortune, the pair is passionate about keeping their private lives low-key for the sake of their two young daughters, Sunday Rose and Faith Margaret.
In a recent interview with Vogue, Kidman opened up about life with her musically talented husband and how they ensure that their two daughters live a normal childhood. She says part of it is simply being present with them.
"I like to be in the kitchen in the morning when the girls stumble in," shared Kidman. "I like the hubbub. My dad was always there with the BBC on when I got up. My mother would lie in bed, and he would bring her breakfast on a tray."
She teared up thinking of the memory after her father passed away in 2014. However, she admits that Urban is a little better at dealing with emotion.
"He'll be 'OK, but now let's just get on with it,' which is why there's such a great balance in our relationship. He says I'm an actor and he's just a performer, an extrovert," Kidman explains. "He gets up onstage and connects with his audience every night through songs and joy and love. Darkness is not a huge part of his art."
Between touring or red carpets for Urban and movie sets or film premieres for Kidman, the couple works with very busy schedules. However, they are protective of their daughters and choose to keep them out of the glaring public spotlight. Sometimes, the girls admit that they would enjoy getting dressed up to join them on the red carpet, but they are also okay waiting at home for them to get back from events.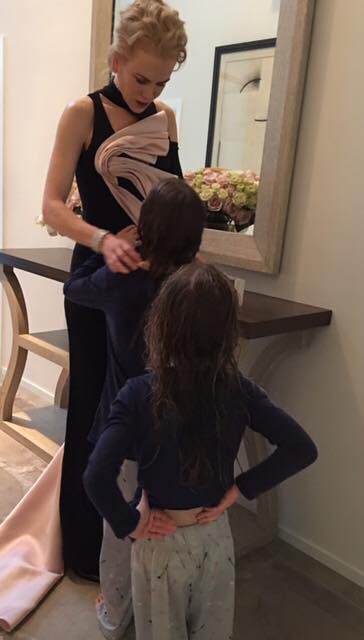 "They wait up for me. I'm very, very happy I have that. I've wanted that for a long time. It's the thing that gives me more joy than anything and is the basis of it all for me," Kidman shares. "I've never taken them anywhere publicly because I'm protective of their identities and don't want them exposed early on. But part of me is pulled in that direction. Sometimes they say, 'I wish I was getting dressed up and going with you.' I don't want them not included."
The couple takes any opportunity to spend time with their children. Kidman adds, "In our private life, they're always involved with us. I don't like the whole kids'-club thing." Urban and Kidman set a good example for their girls, and spending time together as a family is the most important part of their overall happiness.
"Our life here probably isn't what you expect," she expressed. "I read at the school. We're a very tight-knit family—we get anxious if we're separated more than two days. We try to have sit-down dinners every night we're here. Friends from school come over. Sometimes we'll have nine kids for dinner." She laughs. "I can live out my fantasy of having lots of children." When Urban goes on the road, Kidman and the girls often tag along.
It sounds like these two have found a healthy balance for their family. Share this with other fans of this beautiful couple!