Country Star Keith Urban has performed successful duets with both Carrie Underwood and Miranda Lambert....which one is your favorite duet performance?
Keith Urban has been fortunate to have performed duets with both Carrie Underwood and Miranda Lambert.   Carrie Underwood and Miranda Lambert are two of the most successful female Country Singers of our time.   Keith collaborated with Carrie Underwood for "The FIghter" and partnered with Miranda Lambert for his song "We Were Us".   Watch the official music videos for the duets below and decide which duet performance you like best.
"The Fighter" made a big splash at the 2017 Grammy Awards and the official music video was highly successful! The song featuring Carrie Underwood was co-written Keith Urban along with busbee and was recently selected as the fifth single from Urban's ninth studio album, Ripcord.   Keith Urban's "The Fighter," featuring Carrie Underwood, was inspired by the early days of his romance with wife Nicole Kidman.  "It was just a very quick song to write. I literally just thought about Nic and I and our relationship at the beginning and some of the things that we'd said and that were born into that song," Urban shared with the media.  Urban and songwriter busbee penned the tune while collaborating on the Ripcord album together in London.  In an interview Urban stated, "we set about thinking about who would be the right voice for this and Carrie – I love, love her voice and always have. And so I sent her the song and fortunately she loved it, and it's on the record."  Check out the music video for "The Fighter" featuring Keith Urban and Carrie Underwood below!
The Fighter Official Music Video Featuring Carrie Underwood
Keith and Carrie also performed "The Fighter" for the 2017 Grammy Awards.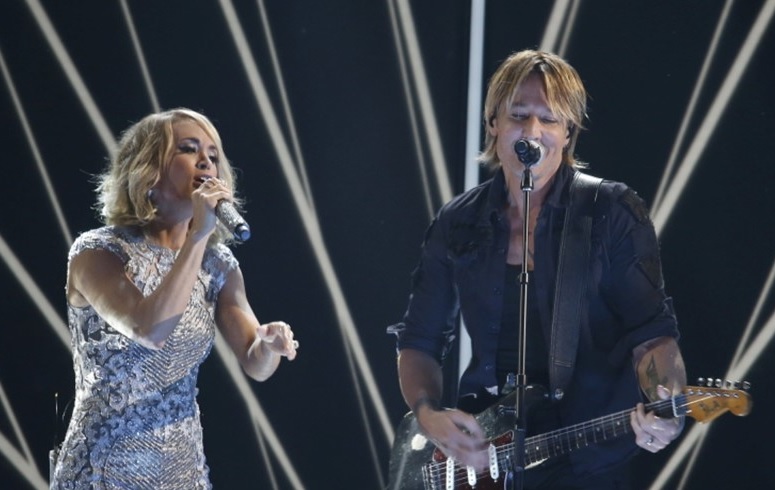 Keith Urban and Miranda Lambert demonstrated amazing on-stage chemistry in their "We Were Us" duet performance.  This song was released in 2013 and featured on Urban's
Fuse
Album.  Watch the official music video for "We Were Us" below.
We Were Us Official Music Video featuring Miranda Lambert
Keith handpicked Carrie Underwood and Miranda Lambert for each duet song performance.  Which duet performance is your favorite?