Kane Brown is now a Guinness World Record holder after becoming the first artist to top five US country music charts at the same time! More here.
Rising country superstar Kane Brown continues adding to his list of accomplishments with his recent Guinness World Record. He just became the first artist to reach the top of five US country charts all at the same time, joining a variety of people who have also made Guinness history in record-setting!
On Oct. 18, 2017, Brown broke the record as he topped all five of Billboard's main country music charts simultaneously. He led the Top Country Albums with Kane Brown Deluxe Edition and Country Digital Song Sales with "Heaven." In addition, he topped Hot Country Songs, Country Airplay and Country Streaming Songs with "What Ifs" featuring Lauren Alaina.
Brown's "What Ifs" took over Sam Hunt's own record-breaking 34-week reign at the top of the Hot Country Songs chart with his hit, "Body Like A Back Road." Originally, the song wasn't supposed to be a duet, but Brown feels that the addition of Alaina helped make it so successful. The two's relationship dates back to middle school when they sang together in choir.
"Once we decided on adding a woman to 'What Ifs,' I knew that I wanted Lauren to sing it, and, of course, she killed it," Brown said, according to Billboard.
He recently received his official record certificate at the Sony Music Nashville office, and many of the label's managers were there to present him with the prestigious distiction.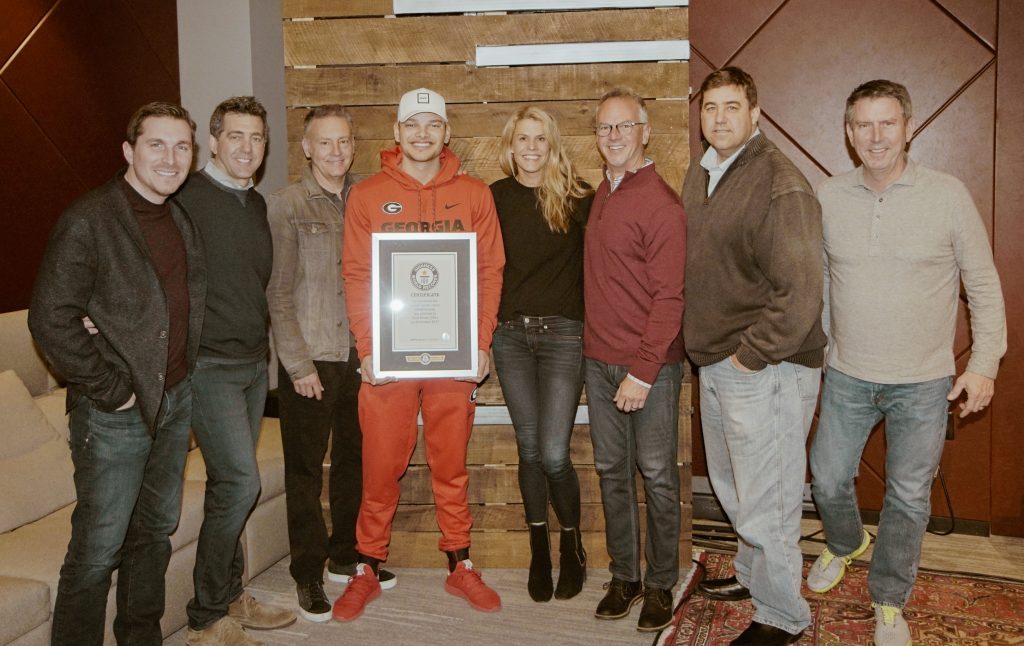 "It feels awesome to be a Guinness World Records title holder and to be the first artist to achieve this with 
Billboard
," Kane said about receiving the recognition, according to
Music Row
. "I remember being in elementary and middle school and looking at the books for all of the records, and I can't believe my name gets to be in there now."
The 24-year-old already has a growing list of successes throughout his young country music career. His album continues to hold the No. 1 spot on the Top Country Albums chart for eight weeks straight now. Its release in December 2016 was his debut into the country music world, and it quickly passed other's debuts for most weeks at No. 1. Additionally, no other country music album has remained at the top of the chart for more than eight weeks.
Congrats to Kane Brown! Share this news with other fans of this star!