Kacey Musgraves' first Christmas album includes Willie Nelson!
"Biscuits" singer-songwriter Kacey Musgraves will release her very first holiday album, A Very Kacey Christmas featuring Leon Bridges, Willie Nelson, and The Quebe Sisters on Friday, October 28th. The record features four festive original tracks, co-written by Musgraves, as well as covers of eight holiday favorites.
"Working on my first Christmas album has been one of the most enriching musical experiences I've ever had and I can't wait for everyone to hear it," said Musgraves. "I really wanted to create a whimsical throwback holiday record, one that evokes feelings of nostalgia and simpler times. I think that the fine musicians and brains that were a part of this project have helped me create a body of music that can be added to people's classic collections."
"It would have been easy to simply copy old versions of these songs that have been around forever, but it was very important for us to build arrangements that are totally new and very me," the talented starlet says of the record.
A Very Kacey Christmas features the Musgraves' charming take on classic standards, as well as four original tracks to put her personal perspective on the holidays. "There can be a touch of sad feelings and memories during the holiday season for a lot of people so I knew when I went in to write I wanted to include all the emotions this time of year can bring out." It's tough to decide what the overall sound could be described as but Musgraves says it's "part Western Swing sprinkled with bits of classic pop, hazy Hawaiian moments and child-like fun, all coming to a nostalgic and melancholy end."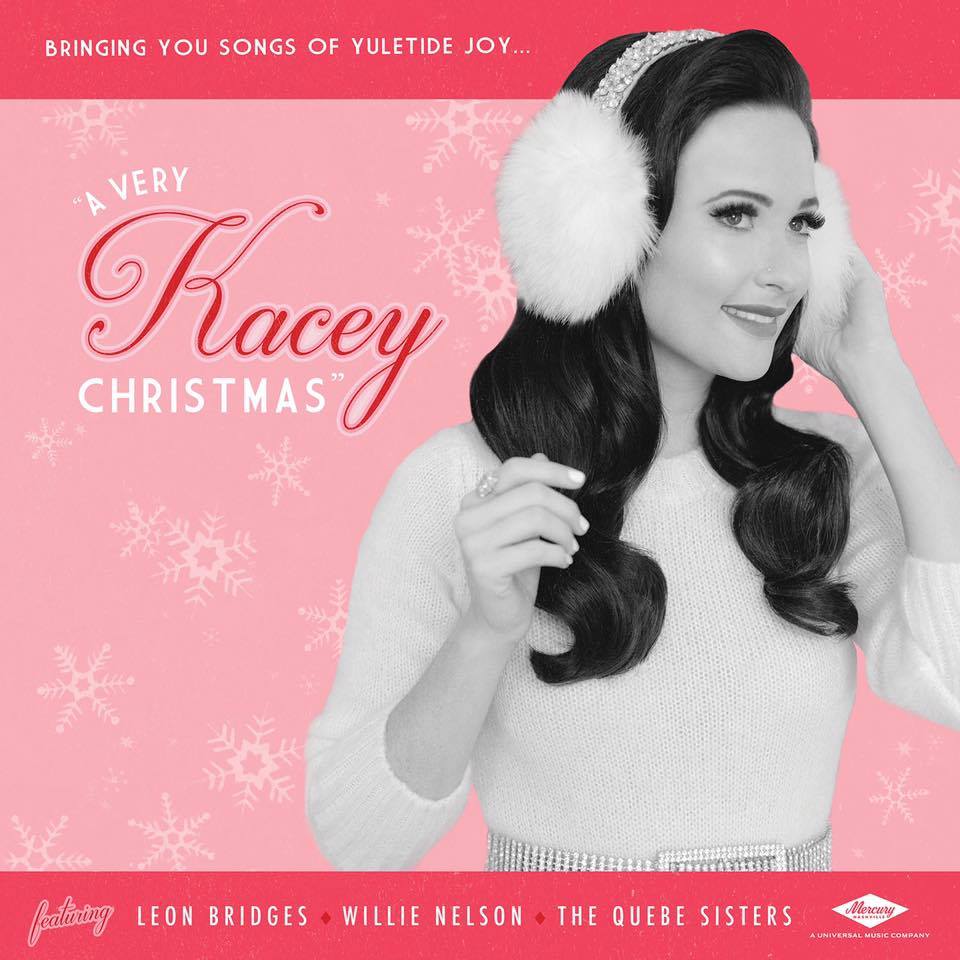 A Very Kacey Christmas Track Listing:
Have Yourself A Merry Little Christmas
Let It Snow (featuring The Quebe Sisters)
Christmas Don't Be Late
A Willie Nice Christmas (Featuring Willie Nelson and Trigger; Written by Kacey Musgraves, Shane McAnally and Josh Osborne)
Feliz Navidad
Christmas Makes Me Cry (Written by Kacey Musgraves, Shane McAnally and Brandy Clark)
Present Without A Bow (Featuring Leon Bridges; Written by Kacey Musgraves, Leon Bridges, Austin Jenkins and Luke Laird)
Mele Kalikimaka (featuring The Quebe Sisters)
I Want A Hippopotamus For Christmas
Rudolph the Red Nosed Reindeer
Ribbons and Bows (Written by Kacey Musgraves, Julia Michaels and Justin Tranter)
What Are You Doing New Year's Eve?
We're pretty jazzed about this upcoming holiday album— and the fact country icon Willie Nelson is included in the mix. Kacey recently opened for George Strait's exclusive Las Vegas shows last April, with additional performances scheduled for September 9th and 10th and December 2nd and 3rd.
Share this jolly news with other Kacey Musgraves fans!