Many country music singers are good friends, but check out the unique relationship between Justin Moore and Thomas Rhett here!
There are numerous reasons why Thomas Rhett and Justin Moore get along so well. First, they share the same birthday. Both country music stars were born on March 30th. However, Moore is six years older than Rhett. Although there is an age gap, they feed off of each other's benefits. Because Rhett and his wife, Lauren, are pregnant and adopting a baby this year, they look to other couples for parenting advice. Justin Moore has three children and a fourth on the way. Since his wife, Kate, gave birth to their first child in 2010, the pair have some wisdom to pass down to younger couples. On the other hand, Rhett's youth helps keep Justin loose.
Next, Rhett accompanied Justin Moore on his Off the Beaten Path Tour in 2013. On tour, they played over 40 shows together. Not only did they travel and tour together, they collaborated with Brantley Gilbert on the hit song "Small Town Throwdown." The pair also share the same label, Valory Music Co.
Another commonality that they share— they have both snagged huge awards at the ACM Awards. Moore won 'New Artist of the Year' in 2014 and Thomas Rhett just won 'Male Vocalist of the Year' last week.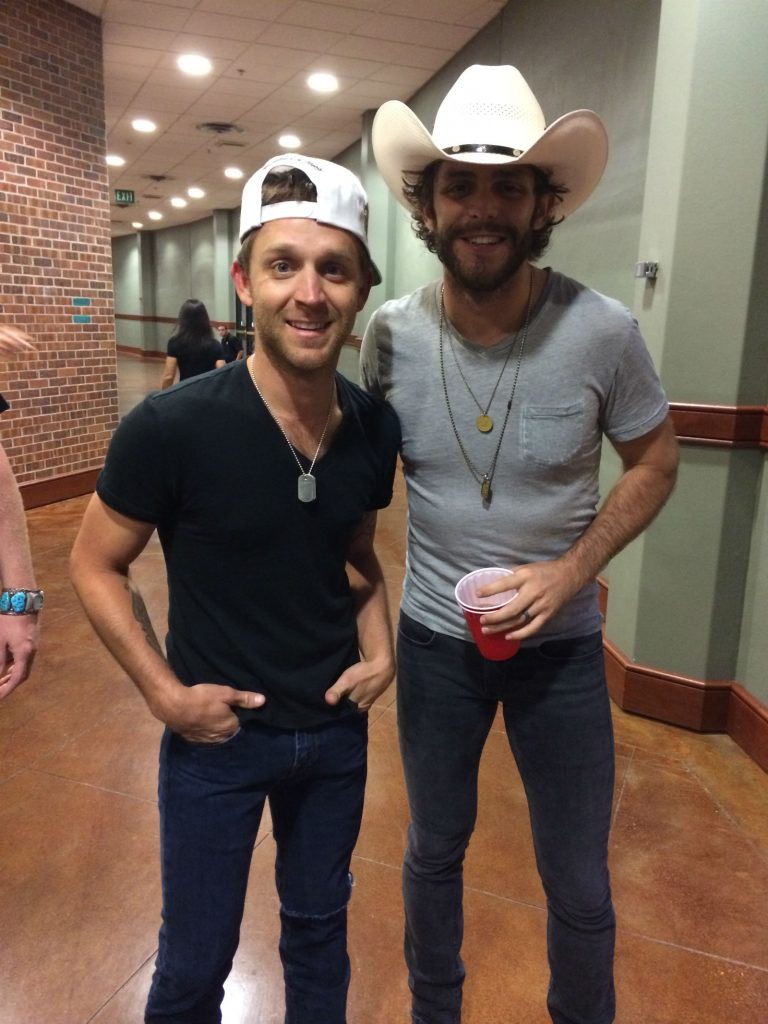 Though not touring jointly this time around, don't miss these two buddies on the road this month!
Thomas Rhett's April Show Schedule:
Apr 20 – Ascend Ampitheater – Nashville, TN
Apr 21 – Ascend Ampitheater – Nashville, TN
Apr 22 – Music and Miracles Superfest – Auburn, AL
Apr 30 – Stagecoach Country Music Festival – Indio, CA
Justin Moore's April Show Schedule:
Apr 14 – Fargodome – Fargo, ND
Apr 15 – Verizon Wireless Center – Mankato, MN
Apr 19 – Schottenstein Center – Columbus, OH
Apr 20 – 8 Seconds Saloon – Indianapolis, IN
Apr 21 – Ford Center – Evansville, IN
Apr 22 – Big Sandy Superstore Arena – Huntington, WV
Apr 27 – Central National Bank Center – Enid, OK
Apr 28 – Silverstein Eye Centers Arena – Independence, MO
More on Thomas Rhett's upcoming tour can be found here and information on Justin Moore's current show schedule can be found here.
Be sure to share this with other country music fans!