In 2017, Justin Moore and his wife welcomed a baby boy to their growing family, Thomas South Moore. He shares the meaning behind the name here!
Justin Moore Son #1 (Thomas South Moore) joined this world on June 11, 2017 and is already 5 years old.  Country artist and Arkansas native Justin Moore and his wife, Kate, welcomed a baby boy into the family as Thomas South Moore "South" joined three older sisters: Ella, Kennedy, and Rebecca.  Watch his growth and development and meet his siblings below.
In 2021, South demonstrated how much he likes dinosaurs while his sisters and dad guarded the edge of the table.
Justin shared the complete kid line-up in this 2020 photo.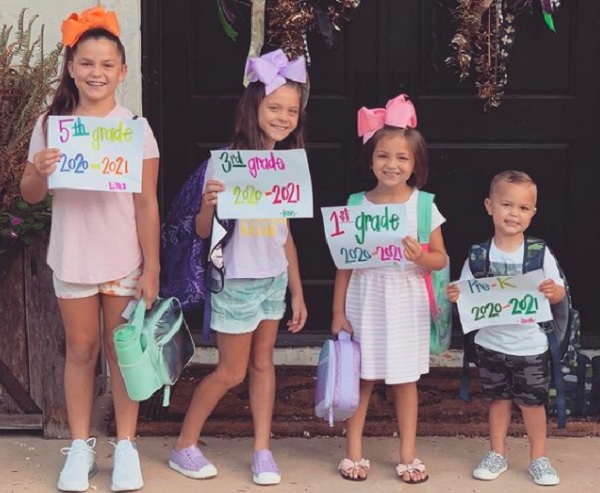 Moore played his first show since his son was born at Country Jam 2017. In an interview before the show, he admitted that he and his wife have some new parenting skills to learn.
Justin's 3 Daughters
"We are in uncharted territory," Moore says. "Everything we've done for the last seven years has been geared toward everything pink, and everything little girl. Which has been awesome, and I love it, but it's pretty cool to have our little boy here." He is happy to see that the baby is healthy and mama is healthy.  Moore coached his daughters in basketball and softball, but "I actually can tech my son football, which is exciting," he says happily.
He also reveals the meaning behind his son's full name. His first name, Thomas, comes from Justin's grandfather. He died after a battle with cancer a few years ago, so it is an ode to him. "He was my hero, still is my hero," Moore said. The boy's middle name, South, comes from Moore's pride in his southern heritage, but in a different way. "I've also spoken throughout my career about the pride I have in being from the South, so I thought, 'I wish my name was South!'" he shared. In fact, he will go by South.
Justin Moore Son:  Baby Picture
In an interview with People magazine, Moore expresses how happy he is to have a healthy, growing family. "Kate and I already felt like the most blessed people in the world with our three beautiful daughters, but we feel even more blessed to have a healthy baby boy now to add to our family," Moore tells the magazine. "God has given us another wonderful gift, in him, June 11."
Congratulations to the couple and their happy, healthy family! Be sure to share this post about Justin Moore's first son with other fans!