Joey Feek always prided herself on preparing and growing a spring garden.
Joey and Rory Feek have hard a very hard winter. Joey Feek was diagnosed with stage four cervical cancer in 2014, three months after giving birth to her daughter, Indiana (Indy). Now, the husband and wife singing duo have been doing their best to make sure that Joey's remaining time on earth is happy and blessed.
One of the pleasures in Joey's life is her spring garden. She takes meticulous care with her little seedlings, carefully planting them in tiny eggshell pots and tending to them with all the care she has for most of the things in her life.
Now, with the future as uncertain as it is, Joey's husband Rory must learn to carry on the gardening tradition. However, the husband is not as "green" as his wife.
In a blog post on his blog "This Life I Live", Rory Feek tells of his wife's favorite time of the year.
"Back home in Tennessee, she plants a big garden every spring behind our farmhouse. By mid-January each year, she's ordering seeds online or going to the Farmers Coop to stock-pile some of her favorites. She'll spend hours looking through catalogs and searching online for just the right ones." Rory says.
"Some seeds she will plant directly in the garden in late March or April, but some she likes to start early, inside the house. In years past, it's not unusual for me to walk in the house and find our kitchen table completely filled with seed packets, potting soil and egg cartons… and Joey grinning ear-to-ear, truly in her element." Rory continues.
Rory then writes about how cold, both literally and figuratively, the winter was this year in their home state of Indiana. He lovingly describes the little seedlings that his wife planted in tiny eggshell pots inside their warm home "stretching after a long sleep, the tiny seeds that she had planted had broken through the surface of the soil and sprung to life."
Their daughter Indy also got to witness this yearly magical tradition of her mother's.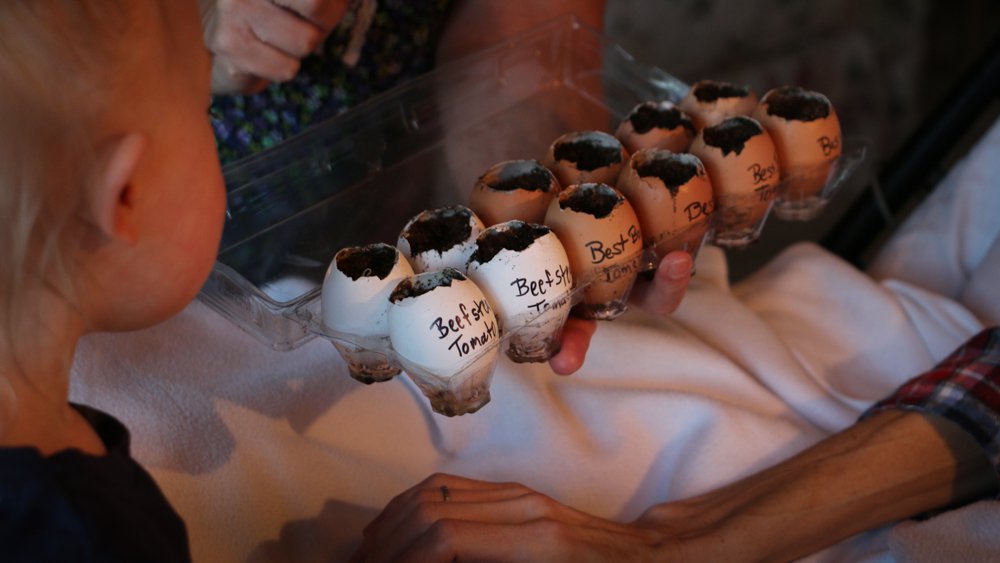 The garden is more than growing plants to Joey Feek, and her husband knows and appreciates that more than she can know.
"She does it [gardening] because it's important to her. Planting a garden and raising food that she can feed her family is part of who Joey is. That doesn't stop just because you have cancer or are stuck in a bed for months-on-end. Life goes on. And what was important, is still important to her. I love that about my wife. That, and a million other things."
You can read more at Rory Feek's blog by clicking HERE. 
UPDATE: 
In December, Joey + Rory got the thrilling news that they had been nominated for a Grammy in the 'Best Country Duo / Group Performance' category for their rendition of "If I Needed You." The talented husband and wife duo are up against the Brothers Osborne; Charles Kelley, Dierks Bentley and Eric Paslay; Little Big Town; and Blake Shelton and Ashley Monroe in the category.
Unable to attend the ceremony, Rory Feek revealed that daughters Heidi and Hopie, along with manager Aaron, traveled to Los Angeles to represent the musicians at the GRAMMYs. Sadly, the duo did not receive the honor— Little Big Town won for their performance of "Girl Crush." Instead of being surrounded by glitz and glamour, Joey and Rory watched the awards program with their daughter Indiana and Joey's close family members from the comfort of her room. We hope the couple enjoyed their night despite the results!