Country music star Joe Nichols has known Heather Singleton Nichols for over twenty-six years! Learn more about Joe Nichols' wife here...
Country music artist Joe Nichols' wife, Heather Singleton Nichols, first entered his life in 1995 when they were both in their late teens. Singleton's father owned the Rio Palm Isle club in Longview, Texas club where Nichols played early in this country music career. Though there was chemistry, life got in the way, and the two lovebirds didn't head down the aisle until September 9, 2007.
"She grew up a lot faster than I did," Joe joked with The Boot when asked about their slow path to matrimony. "She's a very smart person with a lot of ambition, goals and a lot of intelligence. For me to catch up with all that, it took a while. But I eventually did, and she's been a great friend to me for a long time. And it is great to be able to say I am married to my best friend."
Joe Nichols' Wife (Heather)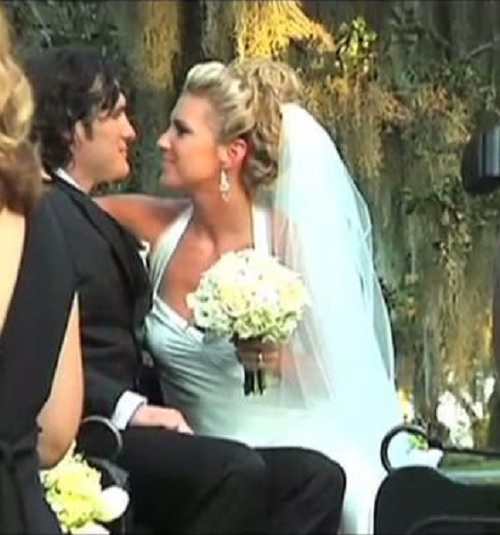 The pair tied the knot in Savannah, Georgia in front of approximately one hundred close friends and family members. After their honeymoon in the Florida Keys, the couple settled in the Nashville area. Their vows were certainly tested just a month into their marriage when Joe entered rehab to deal with issues related to alcoholism once and for all. To add to the couple's stress, Heather suffered five heartbreaking miscarriages while the pair were hoping to add a baby to the family.
After a lot of personal struggle and heartache, the couple welcomed daughter Dylan River Nichols into the world on April 17, 2012. A little over two years later, the family was blessed again with a second daughter, Georgia Blue Nichols, on May 20, 2014. Joe is also the proud father of adult daughter, Ashelyn, from a previous relationship.
In a past interview with PEOPLE, Joe confessed that he hopes his three daughters ultimately pursue careers outside of the music industry.
"There's too many rotten guys in music for me to ever be really okay with it," Nichols shared of his concerns and quickly revealed his protective nature. "I would probably be in jail if they ever really wanted to pursue that."
The entertainer did eventually admit that he would help his girls out any way he could if music was truly their calling— but they would have to finish both high school and college first.
Currently, the Nichols family resides in Tyler, Texas. Heather, Dylan, and Georgia often accompany Joe on the road when he's scheduled to be away for more than a couple of days.
"We all cram in there, and it's uncomfortable at times, but at least I get to spend time with them," Joe shared with PEOPLE about life on the tour bus. "I don't want to miss these years."
View this post on Instagram
Be sure to share this closer look at Joe Nichols' wife with other fans!