Jerrod Niemann met and performed for some amazing kids at the Monroe Carell Jr Children's Hospital, he also got to play at the Grand Ole Opry which was pretty cool!
Jerrod Niemann had an amazing Tuesday this week. He started his day at the Monroe Carell Jr. Children's Hospital at Vanderbilt donating time and music with #CauseForApplause, the philanthropic arm of the Grand Ole Opry.
The Grand Ole Opry has a great reputation for giving back to the community and #CauseForApplause makes huge differences in many lives. Each month, #CauseForApplause focuses on a different cause and the theme of the month of April is "Thank God for Kids."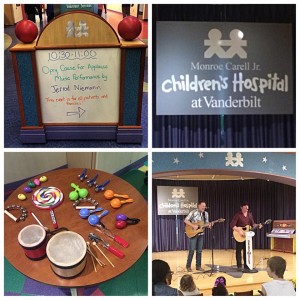 Jerrod spent the day hanging-out and meeting children at the hospital, as well as performing an acoustic duo show for them. Later in the day, Jerrod also got to perform at the historic Grand Ole Opry. Jerrod is no stranger to the Opry and has performed there a few times, always to rave reviews. Check out one of his previous performances below!
Jerrod Niemann continues to make and perform great music and as you can see, he is a caring philanthropist as well. The video of this most recent performance will be up soon and we'll be sure to let you know, so stay tuned to this awesome country star!
For more information about #CauseForApplause and to donate to a great cause, click HERE!
For more Jerrod Niemann news click HERE!